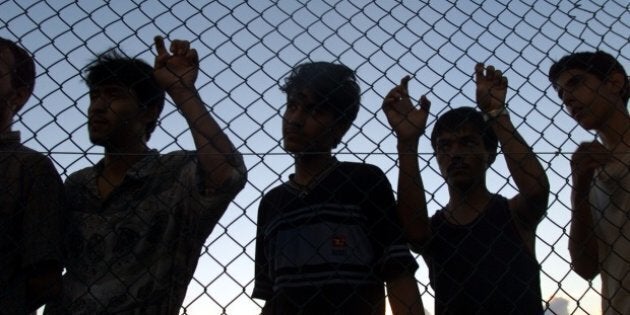 The Turnbull Government has suffered a potential setback for its US refugee deal, with reports American officials have abruptly left Nauru two weeks ahead of schedule.
Fresh doubts have been cast after US officials screening refugees at the Australian-run offshore detention centre on Nauru left the facility early after the US hit its yearly refugee intake cap, according to Reuters.
The US officials reportedly exited Nauru two weeks before their scheduled visit was due to end.
"US (officials) were scheduled to be on Nauru until July 26 but they left on Friday," one refugee told Reuters, reportedly requesting anonymity due to his pending US resettlement application.
The refugee deal, announced in November under former president Barack Obama, would see Australia take refugees from Central America in exchange for the US resettling people on Nauru and Papua New Guinea's Manus Island.
President Donald Trump initially labeled the plan to shift more than 1,000 asylum seekers from Nauru to the US as "a dumb deal", but later said he would honour the agreement.
Amid renewed confusion about the status of the deal, the ABC reports on Sunday that US immigration officials said the refugee swap deal was continuing, despite officials leaving Nauru ahead of schedule.
Foreign Minister Julie Bishop said the matter was "progressing as we expected".
"The United States is upholding the agreement. We have been given assurances by President President Trump and Vice-President Pence and others, that the agreement will be adhered to," Bishop told the ABC on Sunday.
"The United States, like Australia, has a quota each year for the refugee intake. I understand that the quota has been fulfilled for this year. It kicks over again on October 1.
"But I have no doubt that the agreement is progressing as the relevant US authority confirmed this morning."
The US Government this week said its lower quota of accepting 50,000 refugees a year had been filled and would reset in October.
ALSO ON HUFFPOST AUSTRALIA