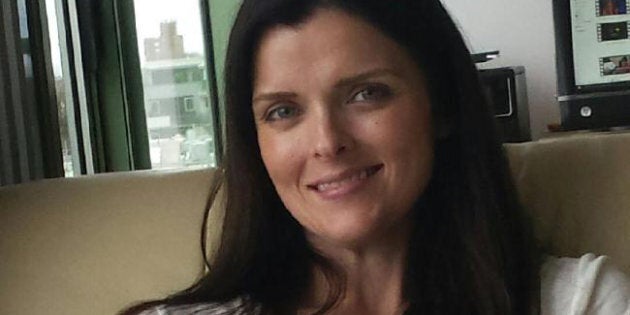 Amber Harrison says she does "not regret" the mammoth court battle she has waged against Channel Seven, despite being ordered to pay the network's legal costs which may reach into the hundreds of thousands of dollars, criticising the "boys club" in Australia's corporate culture.
Harrison fought a long-running case involving her former lover and boss at Seven, Tim Worner. Harrison and Worner had been involved in an 18-month relationship, which culminated in Harrison leaving the network in 2014 with a substantial financial payment and an agreement not to air details of their tryst. Seven had taken Harrison to court in February, seeking a gag order to keep her from talking about her relationship with Worner, and the two parties were due to fight it out in court earlier this month -- however, just before the case was due to begin, Harrison folded and agreed to the gag order. On Monday, Harrison was ordered by the court to pay Seven's legal fees.
On Tuesday, Harrison spoke to ABC radio's AM program. Despite the gag order, she spoke freely and openly about the circumstances of the case, and claimed she never received the payment that Seven had promised in exchange for her silence.
"I didn't receive that money, so that is an untruth. And I did stick to a confidentiality deal for two and a half years and fought to the bitter end privately to resolve the matter," she told AM.
"When I was exhausted emotionally and financially and left ruined in December of 2016, I made a decision that the court system does not serve an individual: it serves a company who knows its way around it. And I took the path that I took. And no, I do not regret that."
Harrison defended her actions during proceedings, which included setting up a Twitter account.
"There's no doubt I made mistakes, but the difference is that I was just one person and, as I said, the system is very complex and Seven have in-house lawyers, external lawyers, and they have access to everything and anything they want to try and bring me down," she said.
"I was making it up as I went along and I did my best."
"We [herself and Seven] could never reach agreement - and that is not through lack of trying every day for three years that we were in contact through lawyers."
Harrison called the last week "bruising" and spoke of the toll on her and her child.
"Litigation is your life, whether you do it in public or you do it in private. Mine, obviously, has been extremely public. The last week, bruising. You know, I think that they won in court by bankrupting me, but the court of public opinion is very different and I've had overwhelming support," she said.
"So now they have control of mine and my child's future and I have to figure out how we're going to live and raise, and how I'm going to raise him under this."
Harrison also criticised the culture around relationships in corporate settings in Australia.
"At some point the boys' clubs that dominate and define Australian business are going to wake up and realise they are no longer in control. I think my case is a wake-up call for them, and I hope it changes things and changes culture and how individuals are treated against the system," she said.
"In the end the truth has a habit of coming out and I don't doubt that it will."
She also defended the right of people to start relationships with co-workers.
"It cannot be a sackable offence for men and women to have relationships in the office... it does go bad and there are those cases, but in some cases, it really works," she said.
"So, we cannot have my case or other cases that are ventilated in public, including AFL, be the new mark of, no-one can have relationships in the office."
ALSO ON HUFFPOST AUSTRALIA