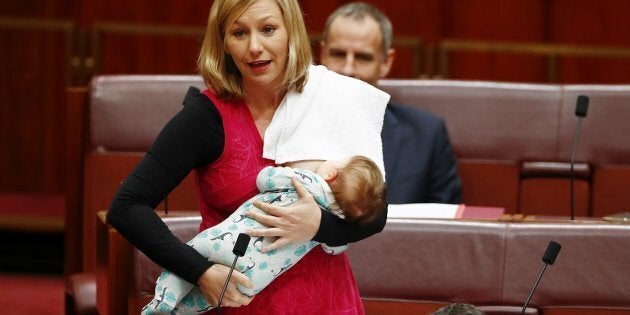 The federal Greens have lost two senators in just four days to citizenship issues, with Queensland representative Larissa Waters resigning from federal parliament after it was revealed that she holds dual citizenship with Canada.
Waters was born in Canada and moved to Australia as an infant. Under the federal constitution, a dual citizen is ineligible to be elected to parliament.
"It is with great shock and sadness that I have discovered that I hold dual citizenship of Australia and Canada. As people would know after the recent departure of my dear friend and former colleague Scott Ludlam, section 44 of the Australian constitution means I cannot hold office in the federal Parliament," Waters said in a statement.
"However after Scott's shock discovery, I immediately sought legal advice, and was devastated to learn that because of 70 year old Canadian laws I had been a dual citizen from birth, and that Canadian law changed a week after I was born and required me to have actively renounced Canadian citizenship."
"It's with great sadness I've discovered I'm a dual citizen," she said at a press conference on Tuesday.
"It was my fault and my fault alone."
Waters, fighting back tears as she made the announcement, said she came to Australia at 11 months of age, and thought she was not a Canadian citizen.
"I've never been back. I thought I was naturalised as an Australian," she said.
On Tuesday, her office advised that she would make "an important announcement" at 1.30pm, using exactly the same phrasing that fellow Greens senator Scott Ludlam used ahead of his press conference last week where he announced that he was actually a dual citizen of both Australia and New Zealand, and therefore ineligible to sit in parliament.
It means the Greens have now lost both their co-deputy leaders, Waters and Ludlam, in the space of four days.
Party leader Richard Di Natale was the first to pay tribute to Waters, saying he was "gutted".
"It is unprecedented to have the resignation of two such outstanding people from this parliament, two leaders of such integrity, such honesty, two people who have done the Greens and indeed this nation proud," he said at a press conference.
"This was an innocent mistake. Larissa acted quickly as soon as he knew about it and she has paid a high price for this. She has had to lose a job that she deeply loves because she is so committed to the things that we are all committed to."
Waters also spoke to 'The Project' on Tuesday night to explain her confusion and refute any loyalty to Canada.
"I left Canada as a baby. I was 11 months old when I came to Australia and I thought I was always Australian and thought when I turned 21 I would be able the opt to have duel citizenship," she said.
"It turns out how wrong I was and in fact the law had changed in Canada a week after I was born and I was supposed to have been renounced. I was apparently Canadian all my life without ever being back.
"When you leave a country at a very young age and you don't have any ongoing allegiance to it, it sort of breaks your heart that you can't do your job as an Australian senator because you apparently have got this allegiance to another country. I thought I was just an Australian citizen and I have never shown any interest in Canada."
In the wake of Ludlam and Waters resigning, Di Natale said the party would conduct a thorough review of internal processes.
"I won't sugar coat it, we need to make sure that our internal party processes are up to the challenge," he said.
"We have to improve our governance. We have to strengthen our internal processes and we have to make sure that this doesn't happen again."
It is unclear exactly who will replace Waters, and also Ludlam, but it is likely that the next person on the Greens ticket at the 2016 election in Queensland and Western Australia respectively will take their place in the Senate. In Waters' case, this would be Andrew Bartlett, a former senator with the Australian Democrats who left the Senate in 2008.
ALSO ON HUFFPOST AUSTRALIA