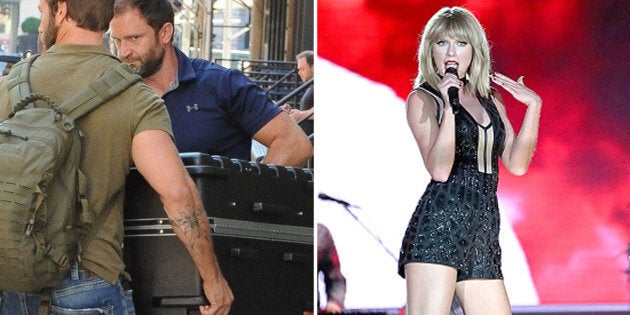 On Monday, photo agency Splash News released a few photos of two burly men carrying a large-ish suitcase out of Taylor Swift's New York apartment with the following caption:
Taylor Swift being transported in a huge suitcase from her Tribecca apartment into her truck, in the trunk. A fleet of cars including two large cadillacs and three suv's arrive at Tailor [sic] Swift's apartment in Tribecca to move a large suitcase from apartment to truck. Almost a dozen of Taylor Swift security guards were present to move this package carefully as Taylor Swift remains to be unseen for a long time.
No, seriously, the photo agency was alleging that Swift was actually being transported via suitcase to avoid media attention.
Sure, Taylor has been keeping a very low profile for 2017, but this would be taking things to a whole new limit if she had traded Subaru for Samsonite.
Needless to say, true or not, this rumour lit up the internet like a gorgeous, messy bonfire.
Many weren't entirely convinced, Taylor isn't the shortest celeb, so getting into any sized suitcase would be a bit of a difficult time, so alternate theories were posited.
While the whole thing sounds absurd, this isn't actually the first time it's been theorised that Taylor travels by suitcase, back in May Perez Hilton tweeted a now deleted, manic message:
It's also very reminiscent of the story that Adele would use a large equipment box to travel from backstage to the center of her massive arena concerts during her "Adele Live" tour.
During one of her Aussie shows, Adele told the crowd, "How I get to and from this stage makes me so sweaty, I'm drenched. I can't tell you till the end. You'll laugh when you find out."
If Taylor wasn't having a tough enough day, this whole suitcase saga falls on the anniversary of Kim Kardashian's epic drag, effectively calling Taylor a snake.
Some people are having a little bit more fun than they should with the coincidence.
After all that, the photo agency has retracted their initial comments, so despite the really, really great mental image of Taylor curling herself up and hiding in a suitcase to go get a Starbucks, it looks like it's *probably* not true. We can still hold out hope though, right?
So there you go, now you're all caught up on everything Taylor Swift for the day. Have a lovely week.
ALSO ON HUFFPOST AUSTRALIA