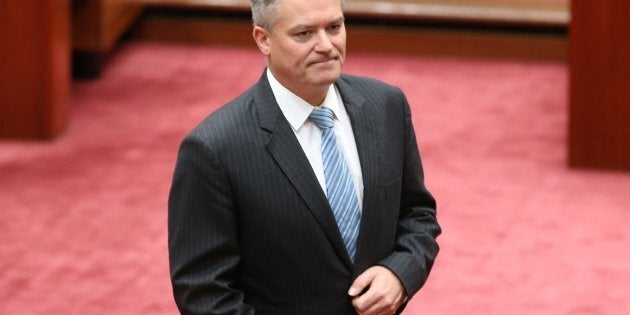 In the wake of first Scott Ludlam, then Larissa Waters resigning from the federal parliament after discovering they hold dual citizenships, other foreign-born Australian politicians are quickly moving to reassure the electorate that their own papers are in order.
Ludlam and Waters, born in New Zealand and Canada respectively, resigned from the Senate after they found out they actually held citizenship to those countries on account of their birth. Both said they were unaware of their foreign citizenship, due to having left those countries at very young ages. Section 44 of the federal constitution blocks dual citizens from entering parliament.
With two citizenship-related resignations in four days, it got lots of people (including this correspondent) wondering if any other Australian politicians had overlooked the fact they held citizenship of another country. The federal parliamentary library maintains a list of the birthplaces of all MPs and Senators -- as of March 2017, there were 24 foreign-born parliamentarians (this list will have changed since then, with new Senator Lucy Gichuhi born in Kenya).
Finance minister Mathias Cormann (Belgium), Liberal senator Eric Abetz (Germany), Sam Dastyari (Iran), One Nation senator Malcolm Roberts (India), Labor frontbencher Penny Wong (Malaysia), Greens senator Nick McKim (England) and former PM Tony Abbott (England) are all on this list, and people started wondering if any of these members mistakenly still held citizenship of those nations? Well, many have quickly moved to allay any fears in the hours after Waters' departure.
"Senator Cormann became an Australian citizen on Australia Day in 2000. Consistent with relevant Belgian Nationality Law at that time the voluntary decision to become an Australian citizen had the immediate and automatic effect of Senator Cormann losing his Belgian citizenship at that point," Cormann said in a statement on Tuesday.
"Senator Cormann confirmed this fact again with Belgian authorities in Australia prior to nominating for pre-selection as a candidate for the Senate, to ensure he complied with the relevant requirements for election to the Senate under the Australian Constitution."
Greens senator McKim also quickly tweeted out his own confirmation, saying he renounced his UK citizenship in 2015.
Malcolm Roberts, too, denied he was an Indian citizen, despite several claims being spread on Twitter.
More broadly, the acting national secretary of the Labor Party claimed that every member of the ALP had met the requirements to be elected.
It comes just days after Abbott himself started the trend by tweeting out a copy of a letter he received, confirming he no longer held British citizenship.
ALSO ON HUFFPOST AUSTRALIA