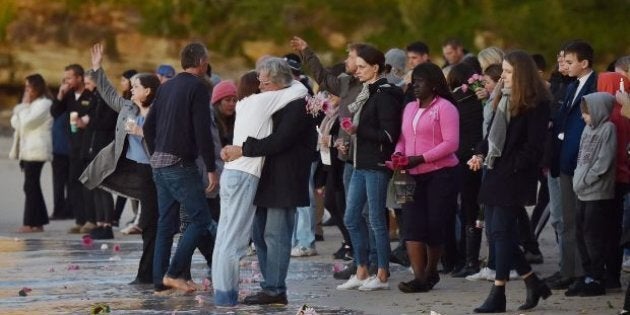 Hundreds of grieving family members, friends and the local community have gathered at a beach before dawn in Sydney to mourn the loss of "bright light" Justine Damond.
The 40-year-old Australian was fatally shot by Minneapolis police officer Mohamed Noor outside her home on Saturday night after calling emergency services to report hearing a possible sexual assault in an alley.
Mourners, including Damond's parents John and Maryan Ruszczyk, lit candles and walked silently down the sand at Freshwater Beach to watch the sun rise as they marked the life of the much-loved local yoga teacher and life coach.
Yoga mats lined the sand, with many attendees participating in a silent meditation. As the sun rose just after 7am, a didgeridoo was played by close friend Matt Omo.
Many people wore pink, the bride-to-be's favourite colour, and as the service ended, people made their way down to the shore to lower pink flowers into the ocean.
Damond grew up in Freshwater and attended the nearby selective school, Manly High, before going on the study veterinary science at the University of Sydney. She had uprooted to Minneapolis in 2015 to be with her fiancé Don Damond, whose name she had taken ahead of their scheduled wedding.
The Australian Government said it is demanding answers over the killing, which Prime Minister Malcolm Turnbull has labelled "inexplicable" and "shocking".
"I mean, how can a woman out in the street in her pyjamas, seeking assistance from the police, be shot like that?" the Prime Minister told Channel Seven's Today Show hosts.
"We are providing all the support we can. It seems inexplicable, but there will be some answers given in due course. At this point, it is a tragic loss.
"Our hearts go out to her family with sorrow and condolence and love."
Police officers Noor and Matthew Harrity are being questioned by officials over the incident.
When asked by 9News if the two police officers were cooperating with authorities, county attorney Mike Freeman said, "Yes and no".
"We are hoping that in the very near future, they will talk. But until they do, we don't know."
Damond's father John Ruszczyk has joined the calls for justice for his slain daughter.
"We thought yesterday was our worst nightmare, but we awoke to the ugly truth and it hurt even more," he said on Tuesday.
"Justine our daughter was so special to us and so many others. We went down to Freshie beach this morning and saw the blackness change to light.
"Justine was a beacon to all of us. We only ask that the light of justice shine down on the circumstance of her death."
ALSO ON HUFFPOST AUSTRALIA