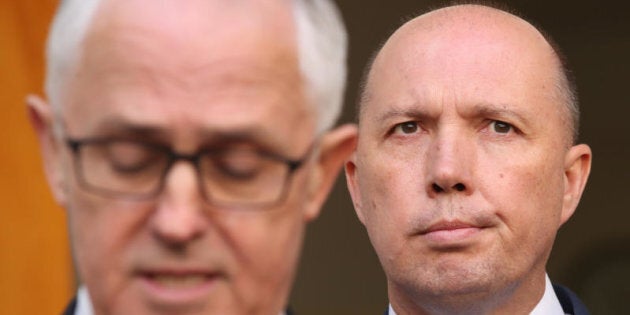 CANBERRA -- In a break from the major parties' usually solid bipartisanship on national security matters, Labor and the Turnbull Government are at loggerheads over whether the new super security portfolio will keep Australians safe and is not just a "political fix" for a Prime Minister in trouble with his party's conservative wing.
Malcolm Turnbull is now pushing back, denying he is "pacifying" the man he is promoting, Peter Dutton, and saying he is "disappointed" that people are putting a "political gloss" on his Home Affairs announcement.
"I know people put a political gloss on these things, Karl, and it is in some ways disappointing that they do," Turnbull told Today host Karl Stefanovic.
"The only issue here is the safety of all Australians."
But on ABC radio on Wednesday, Shadow Attorney-General Mark Dreyfus said the Government hadn't made the case that the new Home Affairs ministry was not a "political fix" for Turnbull's internal problems with the conservative branch of the Liberal Party.
Peter Dutton -- a leading conservative figure in the Turnbull Government -- will now oversee the domestic spy agency ASIO, the Australian Federal Police, the Australian Border Force, the Australian Criminal Intelligence Commission, the Australian Transaction Reports and Analysis Centre (AUSTRAC) and the Office of Transport Security.
"How is it that these changes are going to make Australians safer?" Labor's Dreyfus put to host Fran Kelly.
"We have had just about every expert, every professional in this area say they can't see a reason for this to be occurring."
Dreyfus said the move appears all about politics and the politician, Peter Dutton.
"It is obvious to every Australian interested in this area that there is a huge increase in power coming to Mr Dutton as a result of this upheaval," he said.
"What we have got here is a divided government, in conflict with itself. It is a division that has infected national energy policy and I am concerned to ensure, Labor is concerned to ensure, that the Government's division has not also infected national security policy."
"The Government has to make a very, very clear case to say that that upheaval is not going to disrupt national security, but rather add to national security."
Turnbull clearest explanation, so far, is "logic".
"You know, having these agencies together is commonsense. It is logical," he told Today.
"At the moment, you have the counter-terrorism agencies, Australian domestic security agencies, in effect split between three departments, between Attorney-General's, Immigration and Border Protection and, indeed, my own department.
"If you were starting from scratch, of course you would have them under one minister, just like in the UK with the Home Secretary."
Only a few short years ago, virtually all of the soon-to-be Home Affairs agencies were under the same umbrella. The only difference is that Immigration now joins the super grouping.
The man with the expanding role, Peter Dutton, insists the move is not about him, but making sure the coordination between agencies is 'world-class'.
"Of course it is not being done for political reasons," he told the ABC's AM program.
"The reality is the Prime Minister has been mulling over this since the time he took office. It has been considered by both sides of politics over the last 10 or 15 years."
"And Malcolm Turnbull has been the Prime Minister who's implemented what I think is a very significant but necessary reform.
"It is solely aimed at keeping Australians safe."
On Adelaide radio 5AA, Turnbull said it was a long overdue reform and he was not responding to a particular incident, failure or crisis in national security.
"We take into account every terrorist incident or attack, whether it's Australia or of course internationally," the Prime Minister said. "We discuss them with our international counterparts.
"We are constantly seeking to improve the way our agencies operate.
"Whether it is giving our troops the ability to target and kill terrorists in the field. Whether they are carrying a gun or knife or not. I have changed the law to do that. Whether it is ensuring terrorists who are in jail and who have completed their sentences won't get out of jail if they are still a threat to society. I have changed the law to do that."
ALSO ON HUFFPOST AUSTRALIA