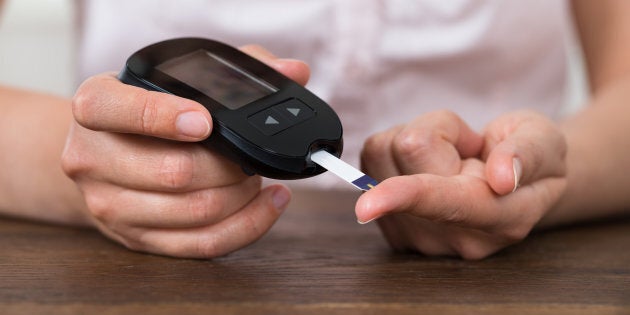 A new do-it-yourself blood screening kit could change the way Australians test for chronic diseases and conditions while making individuals more informed about their health from the comfort of their homes.
For the first time in Australia, an at-home pathology test kit was launched on Monday by MyHealthTest aimed at examining people across the country who may be at risk of Type 2 diabetes and enrolling them into a lifestyle-modification program run by the University of Sydney.
General Manager of MyHealthTest, Nick Cerneaz told HuffPost Australia that, while the Type 2 diabetes test is the only screening kit currently available, the new testing method will make it more convenient for people to become active in managing their health and could extend to other chronic diseases, including prostate and thyroid conditions and high levels of cholesterol or cardiovascular disease.
"MyHealthTest is a direct-to-consumer pathology test company. We offer consumers an alternative way to get blood testing done and for consumers who have a phobia about needles or are time-poor and are unable to get to a doctor, to get a prescription to get blood tests done," he said.
"What we're trying to do is help the average person become more informed to be able to have a discussion with their doctor and take an active part in managing their own health.
"People up to this point went to the doctor and thought they were a voice of authority and were a passive player in the management of their own health... whereas people today are much more keen to take an active role in the management of their health, so what we're doing is helping people to be able to get the information and absorb it in their own home."
The HbA1c diabetes test, developed by researchers from the Australian National University (ANU), measures for glycated haemoglobin and can identify blood sugar patterns over a period of time as a signal of the disease.
The kit consists of a finger prick screening tool which is sent directly to a person's home where they can record samples themselves before sending it back to a MyHealthTest lab for analysis. The results are then made available to consumers via a secure, online website from which they can share the information with their GP or healthcare providers.
"The change that's happening from the old world of medicine from a generation ago to today is the personalising of medicine which is becoming a much more significant part of the healthcare landscape," Cerneaz said.
"Information and data is a key resource in that evolution and we are a small part of that new world, in that being informed and being able to take informed decisions is crucial to tomorrow's healthcare.
"The more people that can become more informed about their conditions and take an active interest in managing their health, the more likely you are to get compliance with treatment regimes."
According to diabetes researcher from the University of Sydney's Charles Perkins Centre, Nick Fuller, the test makes screening for a person's risk of developing diabetes more convenient and puts them in a better position to decide about enrolling in a diabetes prevention program.
"It's an easy, convenient, at-home, use yourself kit that gives an indication of whether a person is at risk and it's particularly important for people who live busy lives who don't go to their GP on a regular basis," he said.
"The diabetes prevention service [run at the University of Sydney] is where we know that we can prevent up to 60 percent of cases by offering them things such as lifestyle changes, we can prevent or delay these people getting lifestyle or metabolic disease.
"This test is just one way of helping us detect more people at risk."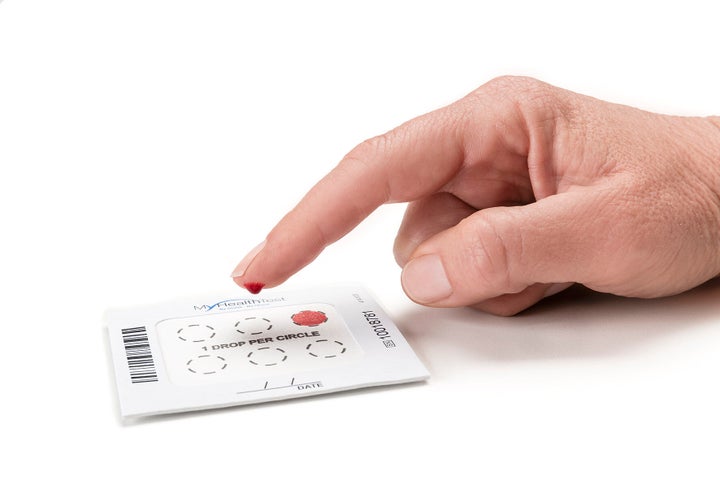 Fuller also told HuffPost Australia the year-long prevention programs are offered to people potentially at risk and are aimed at "behavioural modification" that could reduce the chance of being diagnosed with a metabolic disease.
"Lifestyle decisions are preventing more than one in two people from getting these metabolic diseases through simple changes and clinical weight loss," he said.
"[In the programs, people] get 12 months of health care professional advice in their local health district and they see a range of health care professionals for behavioural modification."
And for Cerneaz, it's the connection between maintaining levels of health and personal well-being that could see people becoming more informed and interested in testing themselves.
"The move from health to wellness is important. There has been a historical focus on health and healthcare and we're trying to elevate that to a focus on wellness and helping consumers help themselves be well," he said.
"We're not focusing on the full spectrum of tests so in a way we will never compete with a normal pathology company. If anything, because we produce more informed people, who are therefore more engaged in looking after themselves, they are more likely to get their annual blood test when they see their GP.
"I think we'll be a useful adjunct to traditional testing, which I don't think we'll see go away, but I think this will become quite a big component of tomorrow's medical world."
ALSO ON HUFFPOST AUSTRALIA