President Donald Trump had a second, informal meeting with Russian President Vladimir Putin at the G-20 summit earlier this month, White House officials confirmed Tuesday.
Officials had not confirmed the July 7 meeting until Ian Bremmer, a political scientist and president of the Eurasia Group, told Charlie Rose in an interview released Tuesday that the two leaders met on the sidelines of the global summit in Hamburg, Germany, following a dinner with the heads of state attending the conference. That second, private meeting took place after Trump's formal sit-down with the Russian president, which lasted more than two hours.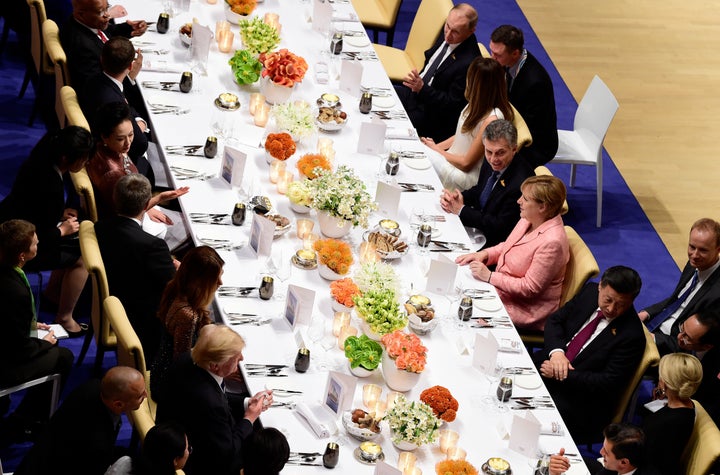 The White House then confirmed to NBC News and Reuters that the meeting had in fact taken place.
According to Bremmer, the second meeting lasted an hour, and the only person present aside from Trump and Putin was a Russian interpreter. No American interpreter was present.
As Time's Zeke Miller points out, no White House officials were present at the dinner.
In a statement later Tuesday to reporters, the White House disputed the characterization of the encounter as a "second meeting," instead describing it as a "brief conversation at the end of a dinner," during which first lady Melania Trump had been seated next to Putin.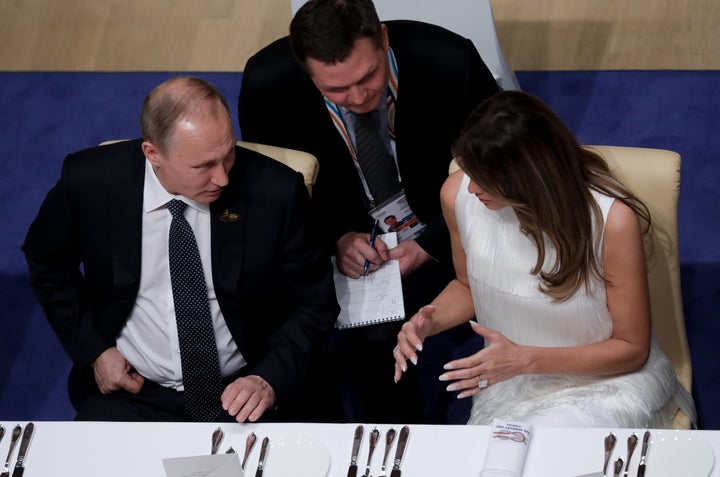 "President Trump spoke with many leaders during the course of the evening," reads the statement. "As the dinner was concluding, President Trump went over to Mrs. Trump, where he spoke briefly with President Putin."
"The insinuation that the White House has tried to 'hide' a second meeting is false, malicious and absurd," continues the statement. "It is not merely perfectly normal, it is part of a President's duties, to interact with world leaders."
Nevertheless, the circumstances of the meeting as well as the initial decision by White House officials not to disclose it have again drawn scrutiny to Trump's relationship with Moscow.
"You have an hour that evening that no one's even heard of," said Bremmer in an interviewing airing on Bloomberg and PBS. "We clearly know that Trump does not care what the media has to say about his desire to have a close, personal relationship with the Russian president, and what drives it."
He continued: "Never in my life as a political scientist have I seen two countries, major countries, with a constellation of national interests that are as dissonant, while the two leaders seem to be doing everything possible to make nice and be close to each other."
Watch the full interview here.
There is no official government record of the meeting. Ben Rhodes, a former national security adviser for former President Barack Obama, said that the previous administration had a policy of disclosing such interactions.
It's also unusual for an American president to speak with a non-English-speaking foreign leader without the aid of a White House interpreter. (Putin reportedly understands most English.) Interpreter for both leaders, along with Secretary of State Rex Tillerson and Russian Foreign Minister Sergey Lavrov, attended the earlier meeting. Even in that encounter, there was some dispute over what the two leaders actually said to one another.
A White House official told the Washington Post that Trump did not have his own interpreter during the post-dinner talk with the Russian leader because he only brought a Japanese-English interpreter to the dinner to help him communicate with his companion for the meal, Japanese Prime Minister Shinzo Abe.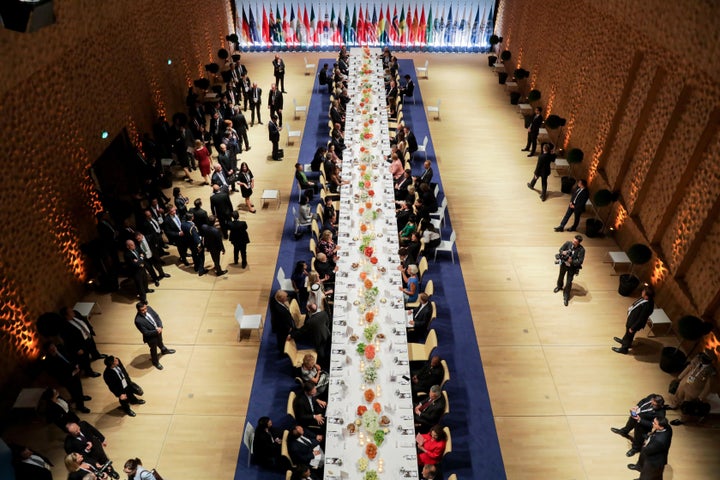 In a series of messages posted on Twitter on Tuesday night, President Trump slammed the accounts of his post-dinner talk with Putin. "Fake News story of secret dinner with Putin is "sick," the president tweeted.
News of the second meeting comes amid multiple investigations into whether the president's associates actively colluded with Russian officials to sway the outcome of the 2016 election in Trump's favor.
Most recently, the Trump administration was rocked by the revelation that the president's eldest son, Donald Trump Jr., met last summer with a Kremlin-linked attorney who had promised to provide damaging information about campaign opponent Hillary Clinton. The president's son in-law, Jared Kushner, and his then-campaign-manager, Paul Manafort, also attended the meeting. The president has denied having prior knowledge of that meeting.
In recent months, other disclosures about meetings between Trump associates and Russian officials have emerged. In May, the Justice Department said Attorney General Jeff Sessions had twice met with Sergey Kislyak, the Russian ambassador to the U.S., during the 2016 election and did not disclose those meetings during his confirmation hearings.
In May, it was reported that Kushner had also had several previously undisclosed conversations with Kislyak, during which Kushner allegedly floated the idea of creating a secret communication backchannel for Trump's transition team to use to communicate with the Russian government.
And in February, Michael Flynn was ousted as national security adviser after it was revealed he had discussed U.S. sanctions against Russia with Kislyak prior to Trump's administration and later lied about the nature of their conversation.
This was a breaking story and has been updated throughout.