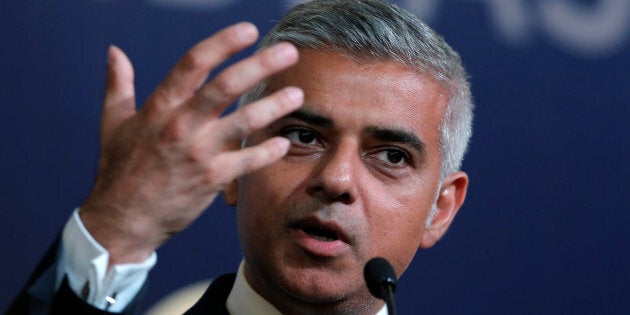 London Mayor Sadiq Khan says it's still not right for the British government to "roll out the red carpet" for President Donald Trump, whose state visit to the United Kingdom is slated for next year.
"State visits are different from a normal visit and at a time when the president of the USA has policies that many in our country disagree with, I am not sure it is appropriate for our government to roll out the red carpet," Khan told CNN Monday.
Khan's comments echoed those he made after last month's deadly attack in London, when the mayor said the U.K. should not be "rolling out the red carpet to the president of the USA in the circumstances where his policies go against everything we stand for."
Trump repeatedly criticized Khan on Twitter for his response to the terror attack, prompting British Prime Minister Theresa May to defend the mayor.
The president had misquoted Khan, who had told Londoners that there was "no reason to be alarmed" by increased police presence around the city.
When Khan pointed out that his remarks had been taken out of context, Trump fired back with this tweet, referencing the mainstream media as "MSM":
Khan told the U.K.'s Channel 4 News in response to a request for comment on Trump's Twitter rant, "I just don't have the time to respond to a tweet from Donald Trump."
The mayor has expressed his opposition to the president on many occasions. He publicly supported Democratic presidential nominee Hillary Clinton during the 2016 election, expressing hope that she'd "trounce" Trump in the presidential race. He has also taken Trump to task on his proposed ban on travel and immigration from several predominantly Muslim nations.
"I think Donald Trump has ignorant views about Islam … and my concern is he's playing into the hands of extremists who say it's not compatible to be Western and mainstream Muslim," the first Muslim mayor of a major Western capital city told the BBC last year.
The White House told CNN last week that Trump's state visit to the U.K. had been postponed to 2018, though it did not offer a reason for the delay. Trump's aids reportedly postponed the visit amid concerns that he would face mass protests in London.
More than 1.8 million people signed a petition this year that sought to prevent a Trump state visit to the U.K. "It would cause embarrassment to Her Majesty the Queen," the petition said.
After a February parliamentarydebate on the topic, the U.K. government asserted that Trump's invitation for a state visit, which had been extended by May soon after his inauguration, would not be withdrawn.
State visits to the U.K. are elaborate, pomp-filled and relatively rare affairs. Hosted by Queen Elizabeth II, visitors typically stay at the royal residences of Buckingham Palace or Windsor Castle in England. They are usually wined and dined at state banquets, sometimes ferried around in horse-drawn carriagesand meetings with the British prime minister and other prominent political leaders are arranged.
Only one or two state visits are organized each year, according to the BBC. During the queen's reign, only two American presidents ― George W. Bush and Barack Obama ― have been afforded the honor of full state visits.