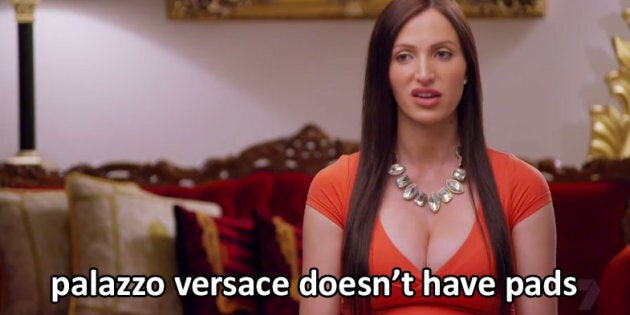 Welcome back to the most laboured show on television. Get it? Labour? Because they're pregnant.
Adelaide's reigning queen of taste Maria and her partner Carlos arrived at Palazzo Versace on the Gold Coast for their Babymoon. A babymoon is exactly like a honeymoon except, instead of celebrating your marriage you and your partner go away right before your baby arrives in a last-ditch attempt to get some sleep. It's like a honeymoon but you can't even drink a cocktail so what's the point?
Back in Melbourne Jane took Lorinska to a shop to actually purchase things for her unborn child, Lorinska meanwhile was stunned with the totally different language of baby accessories like "womb" and "swings". No seriously, those were the two words she chose to illustrate her confusion.
Lorinska walks towards the breast pump accessories, remembering Lorinska has a deep-seated fear of breast feeding because when she was in kindergarten during a farm visit she got hit in the face by a cow's teat. It makes no sense but it's one of the few plot points the show has decided to invest in, so we're invested too.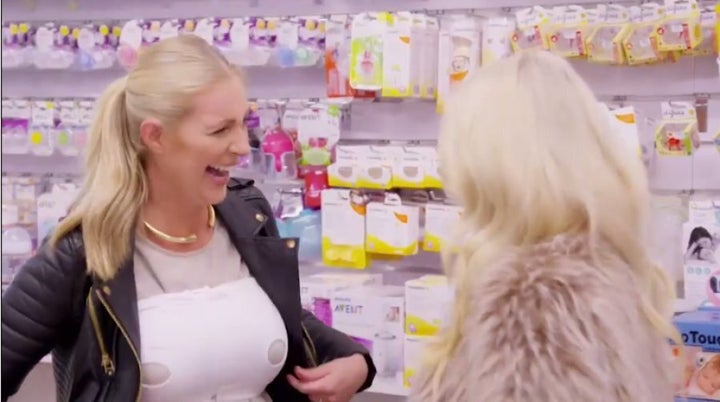 Jane watches as Lorinska cackles her way through a tutorial on how to use breast pumps, "this stuff is so WEIRD," she said. It's really not, the rest of the country quietly mumbles as they searched for the remote.
"I think this trip to the baby shop has helped Lorinska with her fear of breastfeeding," Jane said, scrolling through Seek to see if she could find another gig before this was over.
Back on the Babymoon, Maria and Carlos had planned a tasteful photoshoot with Maria's Uncle Shane.
"I'm hoping Valentina will look back at these photos one day and see what a special time it was," Maria muses.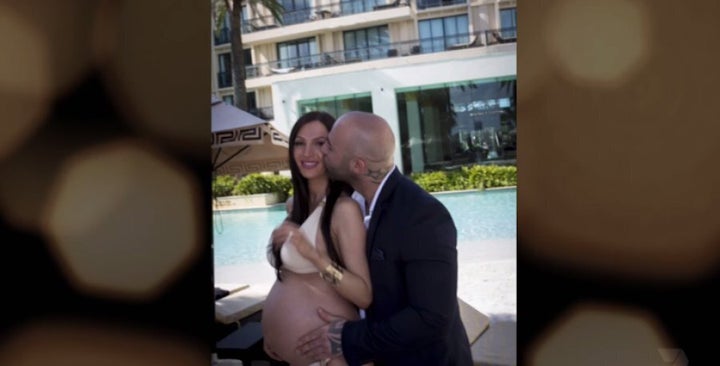 Jane, on her mission to cure Lorinska's fear about breastfeeding decided to bring Lorinska and Rachel to a farm. "There's plenty of poo, isn't there?" Lorinska says, possibly the most meta comment of the show so far.
Turns out Lorinska has a fear of cows and chickens.
"I feel like all animals have a mind of their own," Lorinska said, once again without a hint of irony.
To overcome Lorinska's fear of breastfeeding, Jane takes her to an area of the farm where the ladies are welcome to brush and even milk a cow.
Drawing a parallel between milking a cow and breastfeeding a child could potentially be seen as tacky and embarrassing in some places, but not here. "We really need her to get over this fear," Jane says, looking out a window at her freedom.
Finally, Lorinska gathers the courage to grab life by the teat, and milk her big moment for all it's worth.
Everyone is so, so happy for her. What a moment.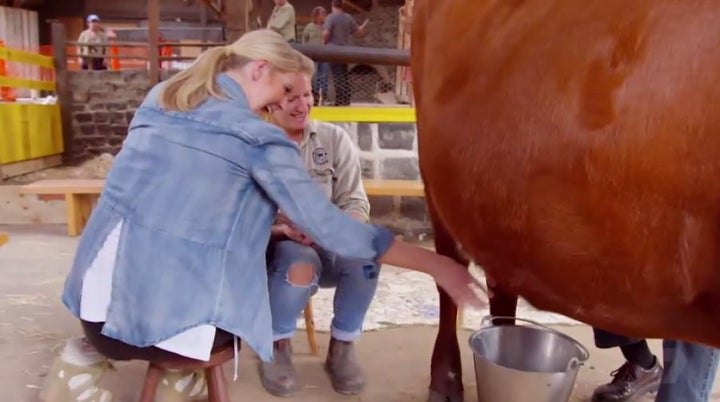 Over at Palazzo Versace, Maria wanders out of the bathroom. "A bit of water came out, but not just a bit... a lot. Is this going to ruin my babymoon?"
Maria gets dialled into a conference call with her mother Margherita and one of her co-workers. Carlos sits calmly by her side as she explains an "entire glass of water" just fell out of her.
"Carlos looks like he's in as much shock as I am," Maria says as he tries to use Siri to find the closest hospital.
As Siri rattles off the Wikipedia history of Gold Coast hospitals (it was a major teaching and referral hospital and the third largest in Queensland), Carlos wandered around in a daze as if Maria was still pointing out everything Versace in the room. "Yeah, Carlos is looking really stressed," Maria said.
Maria, sitting on the couch at the Palazzo Versace decides to...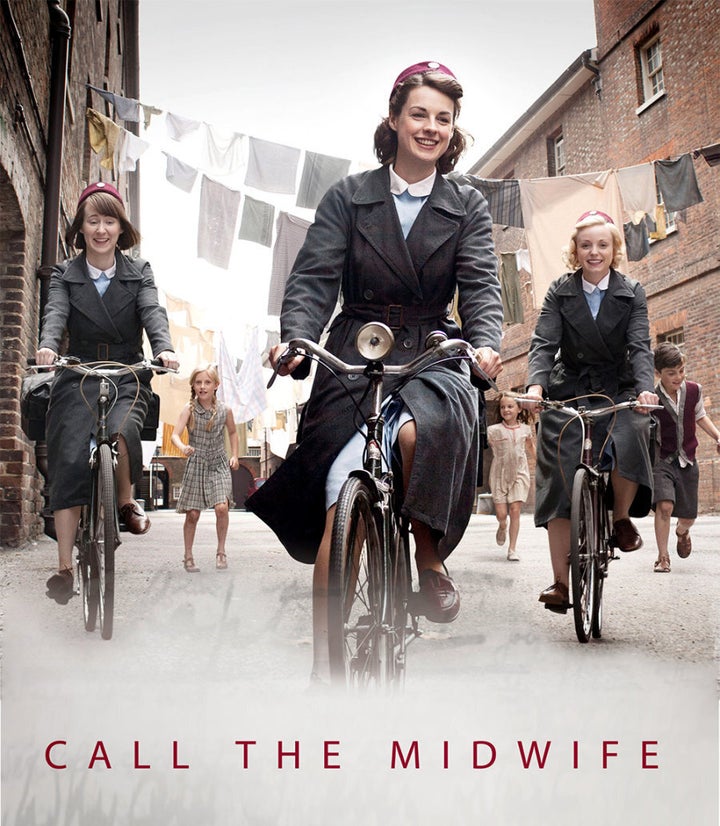 The midwife tells Maria she can't fly after her waters have broken, so she may be stuck giving birth in the lobby of the Palazzo Versace. Meanwhile she needs to check if in fact her waters have actually broken so Carlos is sent on a mission to get some maternity pads.
Carlos wanders slowly over to a landline phone, probably trying to contact Siri.
In Melbourne, Jane takes her husband Joey to buy a push present: a Range Rover. Flashing back to Maria's baby shower (the biggest baby shower in Adelaide), Maria raised the photo on Instagram of Lorinska in front of a Range Rover. "So she DIDN'T even get a Range Rover for a push present?"
Jane's decided to bring the Range Rover to Lorinska's baby shower, which Maria will be a guest at.
Back at Palazzo Versace Maria's still wondering if she's in labour. "I think we should eat," she says before she decides to...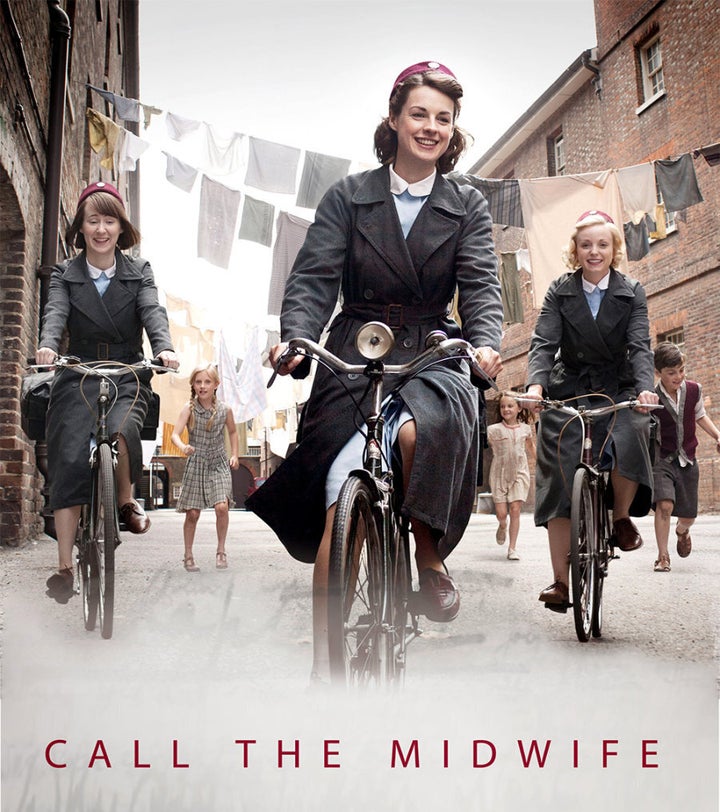 Maria arrives at the hospital where she's informed some terrible news, she may have to give birth on the Gold Coast – while her Burberry baby bag is in Adelaide. Will she cope?
ALSO ON HUFFPOST AUSTRALIA