Sunday mornings on Sydney's Freshwater Beach are a rowdy affair. Hundreds of children and teenagers descend down the dunes and wade into the water, competing in swim-and-run races as part of Australia's junior surf rescue training program. With coffees in hand, parents look on and cheer. Race organizers keep control with bullhorns and whistles.
This week, however, the beach hosted a silent vigil for Justine Damond, the 40-year-old yoga instructor who was shot, unarmed, by a police officer in Minneapolis last Saturday. Damond lived around the corner from the beach, known locally as "Freshie," until she moved to the U.S. in 2015. More than 300 friends and family members attended the vigil, where candles were lit and someone played a didgeridoo against the backdrop of the crashing surf.
Australians have been aware of America's police violence problem ― a grotesque collision of the nation's fixation on guns and its overdependence on police enforcement ― since protests erupted over the killing of Michael Brown by police officer Darren Wilson in 2014. The tragedy in Ferguson, Missouri, made international headlines.
This week, however, America's problem became Australia's problem, too.
In the United States, police shootings of unarmed civilians have become so frequent that a week without a highly publicized incident feels like the exception to a rule. More than 540 people have been shot by police in 2017, and it's barely mid-July. In Australia, police shootings are exceedingly rare: Between 2007 and 2011, in a nation of about 24 million, police shot and killed 14 people.
Prime Minister Malcolm Turnbull called Damond's killing "shocking" and "inexplicable." She was shot by Minneapolis officer Mohamed Noor, a Somali-American who has been on the force for two years. She reportedly called 911 late at night to report a possible sexual assault, and was talking to Noor and his partner when Noor fired at her out of the car window ― reportedly, he was startled by a sudden noise and feared an ambush, perhaps an armed one.
"How can a woman out in the street in her pyjamas seeking assistance from the police be shot like that?" Turnbull asked, in an interview with Australia's Channel 9. "We are demanding answers on behalf of her family." In Australia, the story has been front page news all week, the headlines roaring with outrage and incomprehension.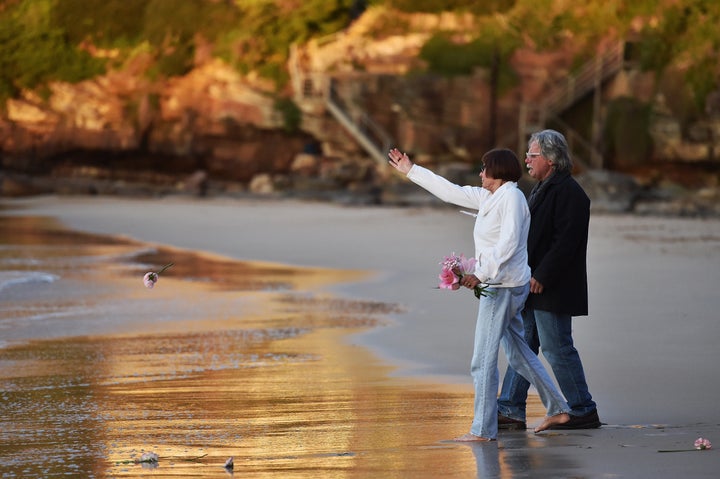 Australia is often held up as an example of how a country can, with courageous and conscious policymaking, largely rid itself of gun violence. After a horrific mass shooting in 1996, conservative Prime Minister John Howard tightened firearms laws and instituted a gun buyback program, collecting and destroying 700,000 guns. This year, in response to an uptick in illegal firearms and facing a threat of terrorism, Australia implemented another gun amnesty.
By contrast, U.S. lawmakers, particularly on the right, have resisted common-sense gun law reforms. While state and citywide gun buybacks have been implemented occasionally, in the pitched political climate of 2017, it is all but impossible to imagine such a program happening on a federal level.
Using the loosest possible definition of the term, Australia has seen two mass shootings since 1996. The United States has seen over 154 mass shootings in 2017 alone. The nation's deadliest modern mass shooting occurred barely a year ago, at the Pulse nightclub in Orlando, Florida.
The United States is not Australia, and what works in one country probably would not work in the other. Americans view government with far more suspicion and fear than Australians do, sentiments the U.S. gun lobby devotes enormous resources to encouraging and entrenching.
And beyond that, many Americans just like guns. They romanticize and reify them. The firearm occupies a place in American culture that, even as an Australian who has lived in the U.S. for 12 years, still boggles my mind. That the slaying of nearly two dozen 5- and 6-year-olds in their classroom did not result in even basic congressional action on gun law reform is a telling, stunning indictment of the sanctity of guns in American culture.
Here, Turnbull's words about Damond's death are half right: It is inexplicable.
But it is not shocking ― or, at least, it is not surprising. It is the natural consequence of a country's obsession with guns. In a nation overrun by legal and illegal firearms and dependent on militarized and fiercely unionized police who fear armed ambush ― and who have seen time and again that they will face little or no consequences for killing on the job ― this kind of carnage, exacerbated by racist stereotypes about crime and violence, feels all but inevitable.
The reaction to Damond's death, in the U.S. and in her home country, cannot be separated from the racial realities of the tragic situation.
Australia, like the U.S., has lately experienced a spike in virulent Islamophobia. In the U.S., black men are disproportionately likely to be killed by police, and the nation has a long and ugly history of brutalizing black men in the name of protecting white women. That Noor is a black man with a Muslim-sounding name and Damond was a white woman is surely shaping public responses to this particular instance of police violence in both hemispheres.
Nonetheless, Damond's death could also remind Americans for whom the national firearm fixation has come to feel normal and acceptable that this is not normal. This doesn't happen in other countries. It doesn't have to be this way.
Damond's father described losing his daughter as "our worst nightmare." It is a horror into which countless American families are plunged every year. This week, Australia got a glimpse of this uniquely American nightmare. It has long been a national disgrace, and now it is undeniably an international one.