So cool. So provocative, but so, so cool.
Jordan Spieth won the British Open by three strokes overnight. It's the Texan's third Major tournament win following his 2015 Masters and U.S. Open triumphs. All this and he's still just 23.
Most of the hype focused on Spieth's brilliant finish, which came after he blew a big lead early in his final round (you can see his topsy-turvy scorecard here). The mini-meltdown invoked memories of his 2016 Masters capitulation.
But oh boy, did he recover. The moment you knew Spieth had clinched the tournament came on the 15th hole, when he sunk a long putt of around 15 metres for eagle.
That was cool. But did you catch the gesture at the end? Here it is again. You can clearly see Spieth telling his caddie Michael Greller to "go get that".
Now you might think that's pretty rude. Normally a golfer retrieves his or her own ball from the cup, thanks very much. Telling your caddie to "go fetch" struck many as a little arrogant.
But golf people are interpreting it differently. Wrote Golf Digest:
"Why did he want the caddie to go get it? To walk off the green like a badass, obviously. Truly one of the more impressive golf reactions we've seen."
Spieth had a lengthier explanation in the press conference after his win. As he explained:
"It was kind of like an old-school movie when the caddies used to get it out of the hole when guys holed a chip. When you're here, the TVs are always playing old Open Championships, and especially at that venue.

I don't know, I saw it, and for whatever reason, I didn't really know what I was doing at that point. I looked over at Michael and he was in shock, too, and I just said, 'Pick that ball up out of the hole.' And he didn't really know what I was saying at first."
When Michael Greller worked out that the command was directed at him, the caddie took no offence.
"I happily went and got it," he said.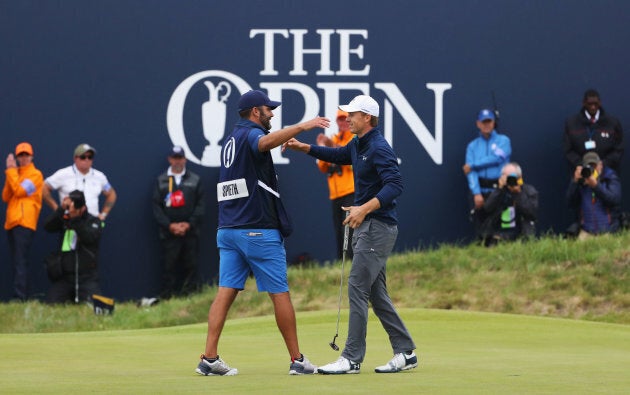 So that's that. Nothing to see here controversy-wise, people.
There is, however, one heck of a talented golfer to be seen, who will aim to be the youngest ever player to have won all four Majors when he takes on the PGA Championship at Quail Hollow, North Carolina, from August 10.
For the record, Australia's Marc Leishman finished in a tie for 6th, Adam Scott was tied for 22nd and Jason Day and Aaron Baddeley tied for 27th.
ALSO ON HUFFPOST AUSTRALIA