Want to spruce up your home with a little touch of greenery, but don't exactly have the know-how to cultivate an entire garden? Terrariums are the perfect way to enjoy some earthy ambiance, without needing an abundance of space, or horticultural expertise.
Think of terrariums as living art; follow some basic steps, and add your personal artistic flare for a finished product that's uniquely your own.
Of course, you can buy a professionally styled piece, but making your own mini naturescape can certainly add to the fun and satisfaction of displaying it in your home.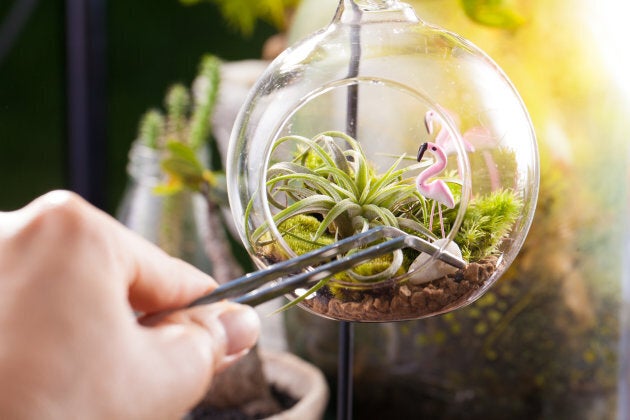 STEPS TO CREATING YOUR OWN TERRARIUM:
1. The first thing you'll need is something to display your creation in, namely a glass receptacle with an opening for adding the various components and removing your air plant for watering (more on that in step 5).
Closed terrariums are an option, but if you're looking for the simplest set-up, open terrariums are the way to go. Specialty terrarium globes and other shapes are available at plant shops, and will often have a loop for hanging which can be a particularly pretty way to add dimension to your display. However, a vase, fishbowl, or cognac glass could easily do the trick if you intend to house your terrarium on a flat surface.
Making your own mini naturescape can certainly add to the fun and satisfaction of displaying it in your home.
2. Next, you'll want to create a one-inch layer of rocks along the base of your globe or glass container to create a drainage system. You could find coloured rocks at a craft supply store, or collect your own small stones.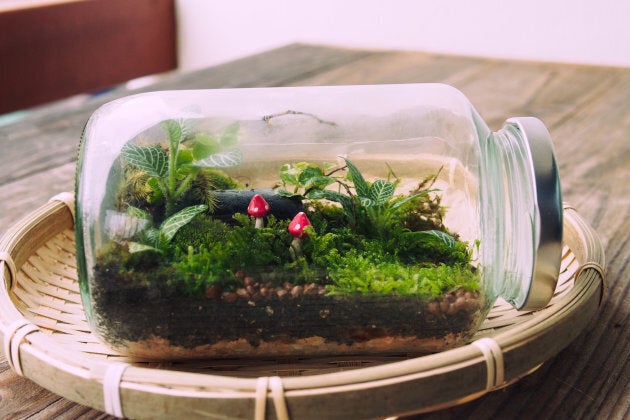 3. Add moss. There are several types of moss you could use, but for the most low maintenance and vibrant colours, we took the suggestion of our friends at Crown Flora and went with Reindeer moss, which is dried (and often dyed) and does not need watering.
4. Add a small toy or decoration. We placed a teeny toy pterodactyl into a terrarium we made for a five-year-old and he loved it! Add anything you like to create your own special touch; consider a couple of shells from a memorable vacation or a small piece of bark or driftwood.
5. Choose an air plant. Air plants are easy to take care of, as all they need is a weekly soak or in-between spritz. Gently lift out your air plant to bathe it, let it soak for 20 or 30 minutes, shake softly to remove any excess water, lay it out to dry, and then re-position it in its mossy home.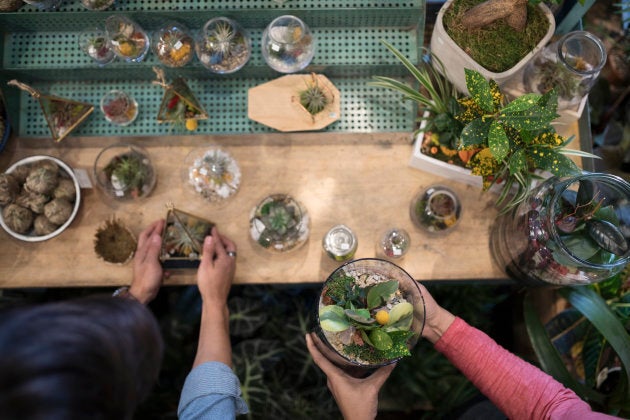 Terrariums are also great for gifting, as they're beautiful, cost-efficient, and can be easily personalized. Think your friends will love making them as much as we did? Gather a group and organize your own DIY workshop with a living memento to take home!