The most striking image from the new "Alias Grace" trailer bears a certain resemblance to a shot from Hulu's "The Handmaid's Tale," in which the protagonist Offred (played by Elisabeth Moss) stares up at the viewer from atop a pillow as the camera zooms in on an eerily blank expression plastered across her face.
In "Alias Grace," set to hit a streaming device near you come Nov. 3, the lead character, Grace Marks (played by Sarah Gadon), finds herself in a similar pose. Unlike Offred though, Marks isn't trapped in a future American dystopia beset by fundamentalists. She, an impoverished Irish immigrant, is living a fairly mundane life as a domestic servant in what was once known as Upper Canada in the 1800s.
Until she's accused of brutally murdering her employer, that is.
In the highly anticipated Netflix miniseries, adapted from Atwood's 1996 book based on real historical events, Marks and a stable hand named James McDermott (Kerr Logan) are convicted of the murders of Thomas Kinnear (Paul Gross) and his housekeeper, Nancy Montgomery (Anna Paquin), with whom he was having an affair. Throughout the course of her trial and eventual imprisonment, Grace is perceived as a sensational "murderess" by some and an unwitting accomplice unfairly punished by others. After 30 years behind bars, she's eventually (spoiler!) exonerated, but the decision does little for her now notorious reputation.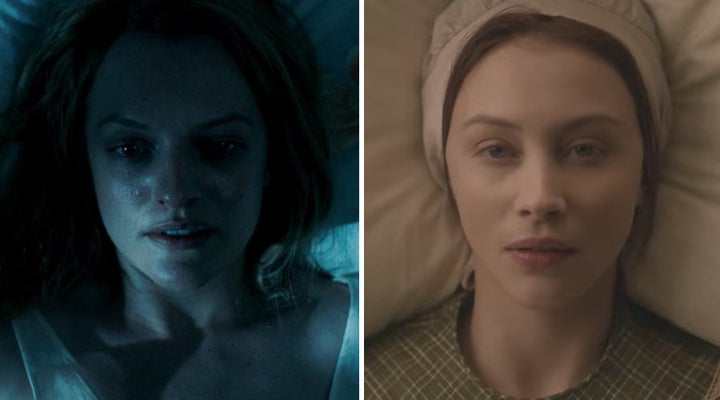 Beyond the similar pillow-framed shots, the two Margaret Atwood TV adaptations are very distinct stories. (One is science fiction and the other historical fiction, after all.) But if you're looking for parallels: They both tackle concepts of female villainy, oppressive societal expectations and the consequences of class stratification. They both center around a complex female lead whose fate hangs in the balance.
If you admire Atwood's spine-tingling storytelling abilities, and her knack for crafting intriguing characters, you'll want to check out the six-hour "Alias Grace." You'll just have to wait a few months to do so.
And in case you were still wondering, yes, "The Handmaid's Tale" has been renewed for a second season.
"Alias Grace" will first air on Canada's CBC network on Sept. 25 before hitting Netflix on Nov. 3.