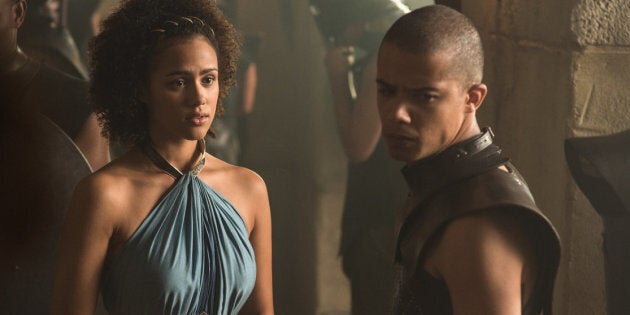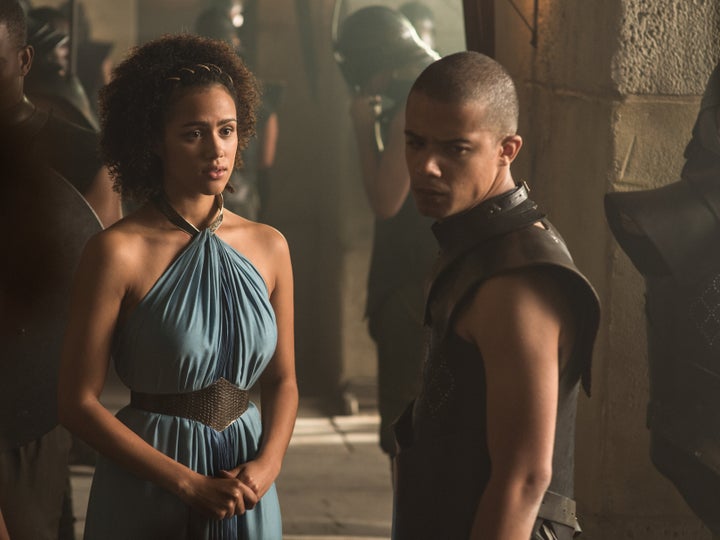 On Sunday night's episode of "Game Of Thrones," showrunners strayed from the norm and aired a loving and consensual sex scene.
In the second episode of Season 7, Mother of Dragons Daenerys Targaryen (Emilia Clarke) has finally amassed enough ships and soldiers to take back the Iron Throne from the evil (but oh-so-entertaining) Cersei Lannister (Lena Headey). Dany's two most loyal followers Grey Worm (Jacob Anderson), the leader of the Unsullied army, and Missandei (Nathalie Emmanuel), a former slave turned Dany's close advisor, have had a *thing* for each other for the past few seasons. The two had yet to act on those feelings since Grey Worm was castrated as a young boy and sold into slavery as part of the Unsullied.
In last night's "Stormborn" episode, Grey Worm is getting ready to set sail for the first battle to reclaim the Seven Kingdoms for Dany when the two lovebirds finally get it on.
For those of you living under a rock, "GoT" has become rather infamous for its brutal rape scenes and general onslaught of sexual violence. The sex scene between Missandei and Grey Worm, however, was intimate, consensual and came from a place of genuine love between two characters.
The night before Grey Worm leaves for battle, Missandei stops by his room to say goodbye. During their heartfelt farewell, Missandei finally reveals her feelings for Grey Worm and asks if he feels the same way about her. And, alas, he does.
"It is hard for me to say goodbye to you," Grey Worm admits to Missandei. "You are my weakness... I was never the biggest, never the strongest, but I was bravest. Always. Until I meet Missandei from the Isle of Naath. Now, I have fear."
In arguably the most intimate scene of the entire series, Missandei takes off her clothes and then undresses Grey Worm. When she attempts to take off Grey Worm's pants, the Unsullied leader stops her in fear of how she'll react to his castrated body. Missandei looks Grey Worm in the eye and tells him she wants to see him. Grey Worm ― completely and utterly vulnerable ― concedes to Missandei and the two former slaves finally make love with full ownership of their bodies.
The scene is refreshing for a show that time and time again has used sex as a weapon, almost always wielded by sadistic men. "GoT" fans saw two characters having sex while communicating their feelings to one another. While this scene shouldn't be an anomaly for a show that's been on air for seven years, it was.
Here's to hoping "GoT" fans get more scenes like this one in the show's last two seasons.