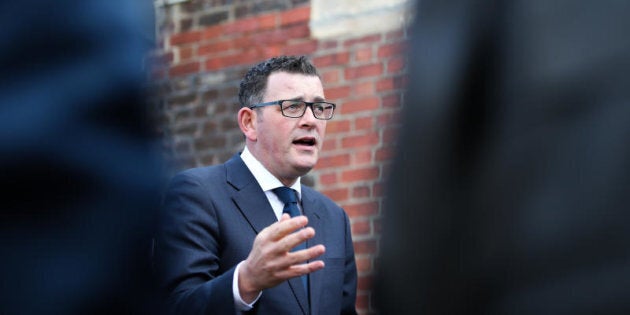 CANBERRA -- Calling for a "respectful" debate, the Victorian Premier Daniel Andrews has announced Victoria will soon move to become the first Australian state to legalise voluntary assisted dying.
He said on Tuesday that a bill to legalise euthanasia will be introduced in state parliament "quite soon" as it was "time to get out of the way" of people who wanted a dignified death. The bill is yet to be drafted, but state politicians will be granted a conscience vote.
It comes as the state Labor Government officially accepts all 66 recommendations of an expert panel, chaired by former AMA president Brian Owler, for the "safest-possible" euthanasia model. In total, there are 68 safeguards, according to Andrews.
Andrews said he was moving to help Victorians with "no solution to unbearable pain". He said until now they were taking matters into their own hands with many "tragic outcomes".
"That is unacceptable to me and I think to the vast majority of fair minded Victorians," he told reporters in Melbourne.
The Premier told ABC radio on Tuesday it was "time to get out of the way" of those who wanted a more dignified end to their lives.
"The time has come to stop denying them that," he told host Jon Faine.
Andrews said Victoria's regime will be conservative and the "safest" in the world, with "fundamental protections and safeguards" to protect vulnerable people from exploitation and coercion.
"On some measure, the most conservative safety-focused regime that could be put in place," he told reporters in Melbourne.
"While still at the same time allowing those with a terminal condition, in the terminal phase of that condition who are sound of mind, to avail themselves of a three step process to end their life in the most compassionate and sensitive way."
It's recommended that patients with an advanced and incurable illness be required to submit three requests to die, with a wait of at least 10 days between submitting the first and third requests. This is flexible if a person is likely to die within the 10 days.
The person initiating the request must be of "sound decision-making capacity" so patients with mental illness or a disability are not included.
Only people over the age of 18, who live in Victoria and are an Australian citizen or permanent resident would be eligible.
Medical practitioners will not be able to suggest euthanasia.
Andrews, who changed his mind on euthanasia after his father's death from cancer, has urged a "respectful debate". The Premier expects the bill would be voted on by the end of the year.
ALSO ON HUFFPOST AUSTRALIA