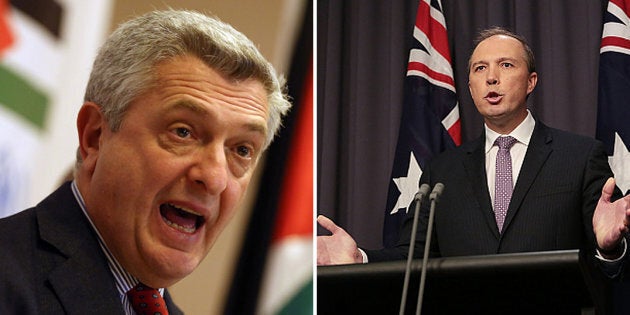 The United Nations refugee agency (UNHCR) has accused the Australian Federal government of doubling back on a "clear understanding" it had with the international body about the possibility of the relocation of asylum seekers in Australia as part of the refugee resettlement deal with the United States.
UNHCR High Commissioner for Refugees, Filippo Grandi claimed in a statement released on Monday that the United Nations agreed to assist with the resettlement of refugees currently on Manus Island and Nauru, under the belief that asylum seekers deemed as having "close family ties in Australia" would not be sent to the United States or Cambodia.
"Last November UNHCR exceptionally agreed to help with the relocation of refugees to the United States following a bilateral agreement between Australia and the U.S.," Grandi said.
"We agreed to do so on the clear understanding that vulnerable refugees with close family ties in Australia would ultimately be allowed to settle there.
"UNHCR has recently been informed by Australia that it refuses to accept even these refugees, and that they, along with the others on Nauru and Papua New Guinea, have been informed that their only option is to remain where they are or to be transferred to Cambodia or to the United States."
Grandi also said the alleged backflip by the Turnbuls government means that UNHCR has no other option than to endorse the resettlement of refugees on Manus and Nauru exclusively to the U.S., regardless of family ties in Australia and the "four years of punishing conditions" seen at the detention centres of each island.
"This means, for example, that some with serious medical conditions, or who have undergone traumatic experiences, including sexual violence, cannot receive the support of their close family members residing in Australia," he said.
"There is no doubt these vulnerable people, already subject to four years of punishing conditions, should be reunited with their families in Australia. This is the humane and reasonable thing to do.
"I urge Australia to bring an immediate end to the harmful practice of offshore processing, offer solutions to its victims, for whom it retains full responsibility, and work with us on future alternatives that save lives at sea and provide protection to people in need."
In response, a spokesperson for the Department for Immigration and Border Protection told HuffPost Australia: "The position of the Coalition Government has been clear and consistent: those transferred to [refugee processing centres] will never settle in Australia."
The UNHCR Assistant High Commissioner for Protection, Volker Turk continued on the offensive on the ABC's '7.30' program on Monday night, saying the international body had "no doubt" about the details of the agreement with Federal Minister for Immigration and Border Protection, Peter Dutton.
"Wen we had the conversation with Minister Dutton in November last year, we had broad agreements and understandings of how we would -- how UNHCR would -- actually be part of facilitating the implementation of the agreement between Australia and the United States," he said.
"There was no doubt in our mind -- and this is what we put forward to the Minister at the time -- that we would present to him cases that are compelling, humanitarian with close family links to Australia.
"We went into this agreement on the understanding that, indeed, Australia would be part of the solution for a handful of compelling humanitarian cases with strong family links in Australia."
In light of the UNHCR's comments on Monday, various human rights and refugee issue advocacy groups also responded with criticisms of the Australian government's reversal.
Refugee coordinator at human rights advocacy group Amnesty International Australia, Graham Thom condemned the Government, saying: "Amnesty International, along with others, has been asking what will happen to split families from the very moment the U.S. resettlement deal was announced.
"The right thing to do, the humane thing to do, would be to immediately bring those trapped in Nauru and Manus Island to Australia to be reunited with their family members here."
Meanwhile, director of Human Rights Watch Australia, Elaine Pearson described Australia's offshore detention policies as "draconian" and labelled the move as "needlessly cruel".
"That the UNHCR chief issued such a stinging rebuke of Australia's policies speaks volumes – the UN is sick and tired of Australia shirking its responsibilities under international law," she said.
"Australia should finally listen to the UN and end offshore processing once and for all. In four years, Australia's draconian policies have done immense damage to the lives of more than 2,000 people, it's time to end that suffering once and for all."
Lastly, director of legal advocacy at the Melbourne-based Human Rights Law Centre, Daniel Webb also slammed the reprisal by the Turnbull government, which he said has "completely abandoned basic decency".
"Enough is enough. Misleading the United Nations to secure support for a deal that has always been full of holes and then permanently ripping apart families - it's shocking," he said.
"Permanently ripping apart families is fundamentally wrong. Children deserve to be with their parents. Families forced to flee persecution deserve to build a future in safety together.
"2000 innocent people - 169 children - have had four years of their lives ripped away from them. Every single one of them deserves a future. After four years of fear and violence and suffering and death, our government must evacuate everyone warehoused on Nauru and Manus to safety in Australia."
U.S. President Donald Trump initially labelled the plan to shift more than 1,000 asylum seekers from Nauru to the US as "a dumb deal", but later said he would honour the agreement.
In February, Immigration and Border Protection Minister Peter Dutton told Sky News' Andrew Bolt refugees were expected to be moved to the U.S. "in the next couple of months", although the U.S. government would have the final say as to when they are moved.
ALSO ON HUFFPOST AUSTRALIA