A mum who said she is at her "wits' end" with breastfeeding appealed to mums on the internet for advice.
Mumsnet user lloveroftobleone said her struggles with trying to feed her baby were affecting the state of her mental health.
The mum said her six-week-old son initially fed well and she loved the closeness and bond they had. However he is now struggling to feed efficiently and it's causing her to feel anxious.
"Lots of rapid sucks, not much swallowing," she wrote on Tuesday 25 July. "I hate that he has to work so hard."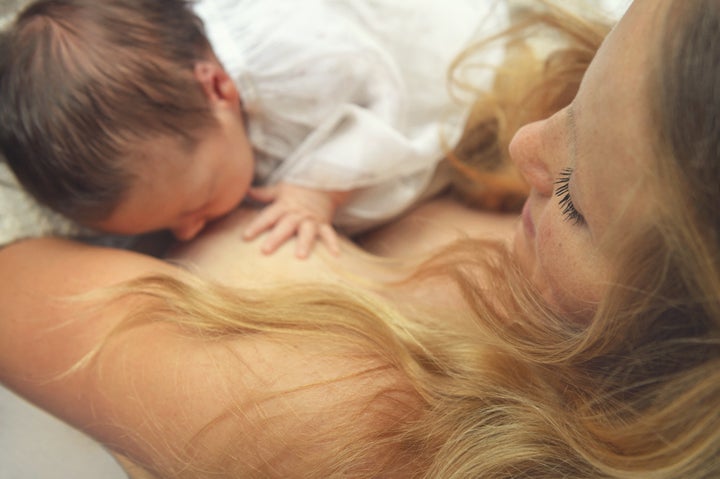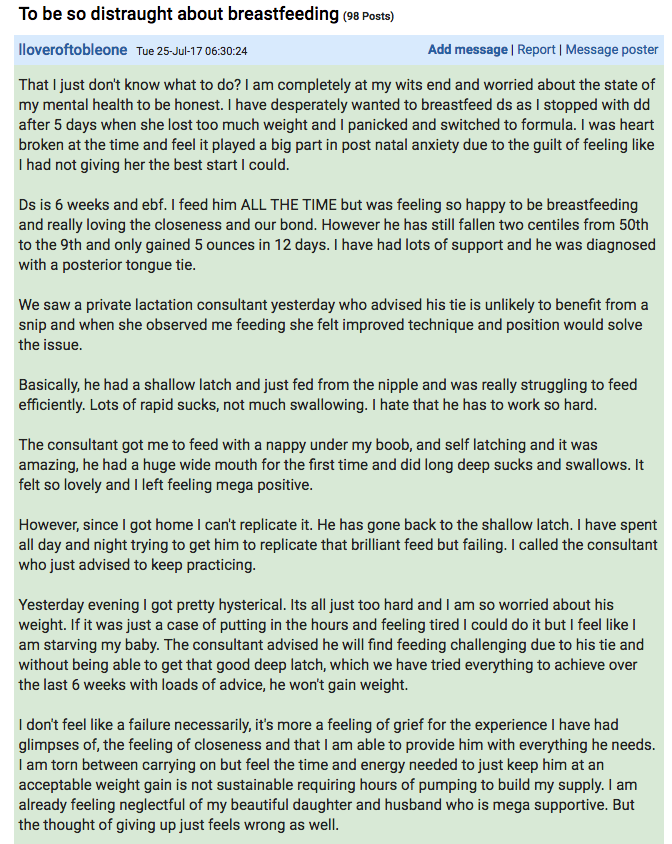 The mum explained she had seen a private lactation consultant who gave her tips on helping her son to feed, including holding a nappy under her boob.
"It was amazing, he had a huge wide mouth for the first time and did long deep sucks and swallows," she wrote. "It felt so lovely and I left feeling mega positive.
"However, since I got home I can't replicate it. He has gone back to the shallow latch. I have spent all day and night trying to get him to replicate that brilliant feed but failing. I called the consultant who just advised to keep practising."
The mum said she felt "hysterical" and was worrying about her son's weight, adding: "the thought of giving up just feels wrong as well."
Mums replied with encouragement and words of advice.
"You are tired and things seem worse when you are tired," one wrote. "You are doing brilliantly.
"See if you can see the consultant again and practise and it might just click. You are not doing badly as you are taking control. Give yourself a timescale for plan A (and plan B doesn't mean you've failed)."
Another wrote: "I know exactly how you feel. It was the pain of breastfeeding for me that was too much.
"I ended up switching out two feeds a day for formula and kept the rest as breastfeeding so I knew I wasn't starving them. Just remember - at the end of the day, you're just giving your baby food, don't feel bad for doing half/half or even switching."
Commenting on the mum's issue, Claire Livingstone, Royal College of Midwives' professional policy advisor, told HuffPost UK: "As a midwife, we know that everyone's experience of breastfeeding is different.
"Breastfeeding does have ups and downs. Also, babies have growth spurts and when they do, they have an increased demand for breast milk. These are phases and it's important mums stick to it to stimulate their milk production.
"Mums in this situation should try not to worry. I'd advise anyone experiencing difficulties like these to get support from their midwife or health visitor, of they could attend a clinic at the children's centre in their area or even a breastfeeding cafe.
"There is a lot of support out there and help."