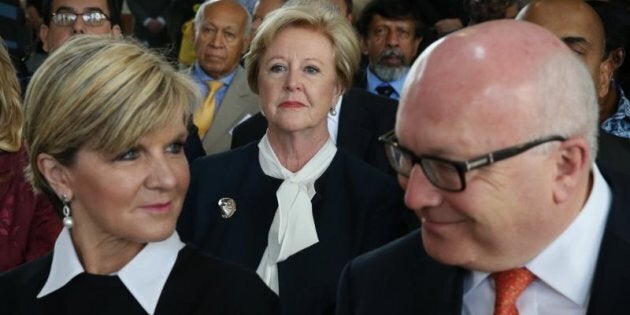 CANBERRA -- Foreign Affairs Minister Julie Bishop rejects what she says is the "totally misguided" human rights criticism from the now-departed Australian human rights chief, especially as Australia appears poised to snap up a seat on the UN's premier human rights body.
While other Turnbull Government ministers have attacked Professor Triggs personally and suggested she has been politically partisan over the past few years, Julie Bishop has opted not to go down that path.
"Well that is a "totally misguided statement," Bishop told ABC radio on Thursday.
"I have been talking to Foreign Ministers and Prime Ministers and leaders around the world about Australia credentials to take a place on the United Nations Human Rights Council.
"This is a decision of the Turnbull government to seek to put our credentials on the line and to serve on the UN Human Rights Council. And I have been overwhelmed by the support. Over a 140 written pledges."
That's more than the 120 or so pledges that Australia received when the then Labor government won a spot on the UN Security Council, according to Bishop.
"So to get over a 140 written pledges at this point is an acknowledgement by the international community that Australia as an open liberal democracy that supports freedom of the individual, gender equality, individual liberty and is home to some 865-thousand refugees since the Second World War, one of the most successful multicultural nations on earth, that this is a country that the overwhelming number of nations wanted to see on the UN Human Rights Council," she said.
During her term on the statutory body, Triggs has had an acrimonious relationship with the Abbott and Turnbull Governments as well as sections of the media, especially over Australia's treatment of asylum seekers and refugees.
Bishop, on Thursday, again held the Government's line -- in contradiction to the claims of the UN refugee agency UNHCR -- that there was any secret "understanding" that some vulnerable refugees from camps on Manus Island or Nauru would be allowed to resettle in Australia.
"My understanding is that our policy, our public and private pronouncements, have been clear and consistent," Bishop said. "Those that arrive via the people smuggling trade and who are transferred to regional processing centres will not be settled in Australia."
On Monday, the UNHCR chief Filippo Grandi accused the Turnbull Government of doubling back on a "clear understanding" to allow for the Australian relocation of vulnerable refugees who had clear family ties in Australia, as part of the refugee resettlement deal with the United States.
Grandi urged the government immediately end to the "harmful practice" of offshore processing and offer solutions to its victims.
"There is a fundamental contradiction in saving people at sea, only to mistreat and neglect them on land," he said.