Travellers faced long queues and lengthy waits at Australia's major airports on Monday morning after increased security measures were introduced over the weekend after police foiled an alleged terror threat.
The situation appears to be worst at Sydney Airport, where the queue snaked out of the domestic terminal and onto the pavement.
At one point, passengers reportedly even ran out of footpath to stand on according to an ABC reporter on the scene.
Khaled Merhi, Abdul Merhi, Khaled Khayat and Mahmoud Khayat are being held in custody but are yet to be charged over the suspected bomb plot, as police continue to comb their Surrey Hills residence for evidence.
Security was increased at Sydney Airport from Thursday, but on Sunday this was extended to all major airports nationwide. It includes an increased police presence and additional screening of both carry-on and check-in luggage.
It's believed the four men were plotting to bring down an aeroplane using a homemade bomb. Police said they found "a number of items of great interest" during the raids, but remained tight lipped on further details related to seized materials.
A meat mincer was among the items seized, according to Fairfax Media and News Corp.
Prime Minister Malcolm Turnbull has praised authorities' swift action to prevent the plot, which he described as an "elaborate" Islamist-inspired terror plot using an "improvised device" to bring down the plane.
The Australian has reported that the men were constructing a "non-traditional" device, designed to kill everyone on board the flight with poisonous gas.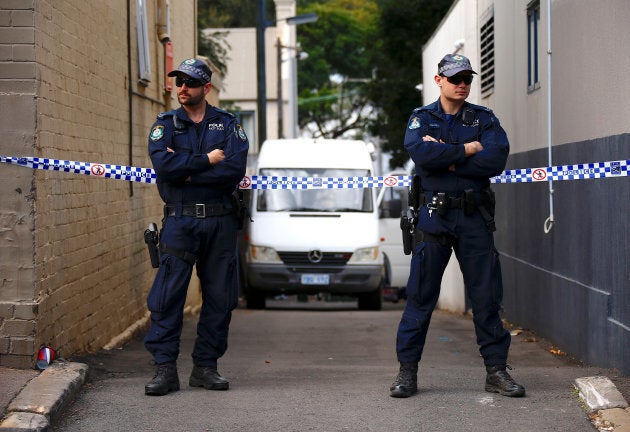 The beefed-up security has also caused crowds to congregate in baggage claim areas, as additional screening of checked-in luggage came into effect.
Travellers flying on domestic flights were warned by carriers including Qantas to arrive at airports at least two hours before their scheduled domestic flight and three hours for international flights.
Although there have been no official changes to baggage restrictions, passengers have been advised to limit their carry-on and check in luggage to minimise wait times.
Airport staff were spotted handing out water bottles to passengers waiting in line. Despite the extended check-in times, most flights were departing on time on Monday morning.
Around 40 riots squad officers stormed a Surry Hills terrace on Saturday before the bomb squad found "items of interest", police said. Homes in Punchbowl, Wiley Park and Lakemba were also raided.
"We've taken this threat very seriously," AFP Commissioner Andrew Colvin said.
"You should infer that we think this was credible and there was an intention, and there was quite possibly a capability as well."
The national terror threat level remains at "probable".