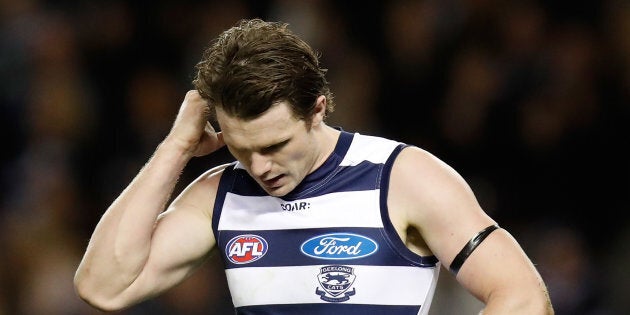 Patrick Dangerfield will not win consecutive Brownlow Medals, and a large proportion of the AFL community is pretty damned unhappy about that.
The Brownlow, in its sweet archaic way, is awarded to the AFL's "best and fairest" player. Last year's winner was Patrick Dangerfield, and the 27-year-old Geelong gun was widely considered the favourite to go back-to-back.
But Dangerfield is now ineligible after being suspended for a week for this tackle that concussed Carlton's Matthew Kreuzer.
It was thought Geelong would appeal, but they missed the Tuesday deadline, so the ban officially stands.
The reason people are angry is that there was no intent in the tackle to hurt Kreuzer -- let alone attack his head. Generally it's felt that it's not a tacklers' job to prepare a down-stuffed mattress for opposition players to land on.
One who saw things the AFL's way was respected sportswriter Richard Hinds, who wrote:
As Dangerfield's defenders were quick to say, accidents happen, it's just that they are far more likely to happen when you have a player pinned by the arms and help propel him forward, head-first, into the ground.
But the opposite view, neatly encapsulated by The Herald Sun's Mark "Robbo" Robinson is far more prevalent:
He tackled Matthew Kreuzer, took hold of an arm and wrapped the other around Kreuzer, in a tackle coach Chris Scott described as exactly how his players are taught to tackle. Dangerfield even said after the match, when asked by reporters, that he couldn't remember the incident such was its regularity in a football game.
The comments underneath Robbo's yarn are even more enlightening. Mostly the readers lament the fact that the toughness is going out of footy.
"RIP the Tackle, 160 year old part of Australian Rules Football murdered by the AFL & MRP July 31st 2017," read one comment.
"The integrity of the game has been compromised. The suspension/report system was to stop thuggery and those acting outside the spirit of the game. There was nothing malicious in what Danger did... he's been suspended for playing the game," wrote another fan.
"While I was secretly hoping he didn't win, to be robbed of the chance because he laid a tackle on a big bloke who accidentally hit his head is ridiculous," said another.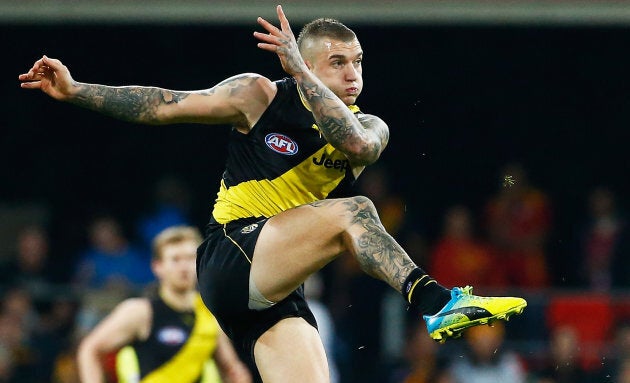 Meanwhile, barring some late season form shocks, the Brownlow -- which we'll remind you again is awarded to the AFL's "best and fairest" player -- now seems likely to go to Richmond's Dustin Martin, who in 2015, threatened to stab a female restaurant diner with a chopstick.