A homeless tent settlement set up outside of the Reserve Bank and just metres from state Parliament has sparked a political spat between the Mayor of Sydney and a government minister.
From there, Minister for Family & Community Services (and Social Housing) Pru Goward weighed in, calling on Moore to act on "these public safety issues in Martin Place." The political fight has spiralled into a who-has-responsibility-for-moving-them-on argument, not un-similar to recent events in Melbourne.
Knives, BBQ, gas bottles, boiling water, unauthorised tent structures, bookshelves and a piano, impeding pedestrian access #nswpol

— Pru Goward (@PruGoward) August 1, 2017
All this mattered little to 'tent city' volunteers and residents Troy, Belinda and Lenore, except that it could again flare up and threaten their small community built around a make-shift street kitchen, itself set against hyper-coloured chalkboard and winged by neatly arranged seats pointed at the Reserve Bank.
There's a bookshelf made of milk crates and a piano as well. Pedestrians stream through the popular thoroughfare, some of them stopping at the cafe and others just going about their business.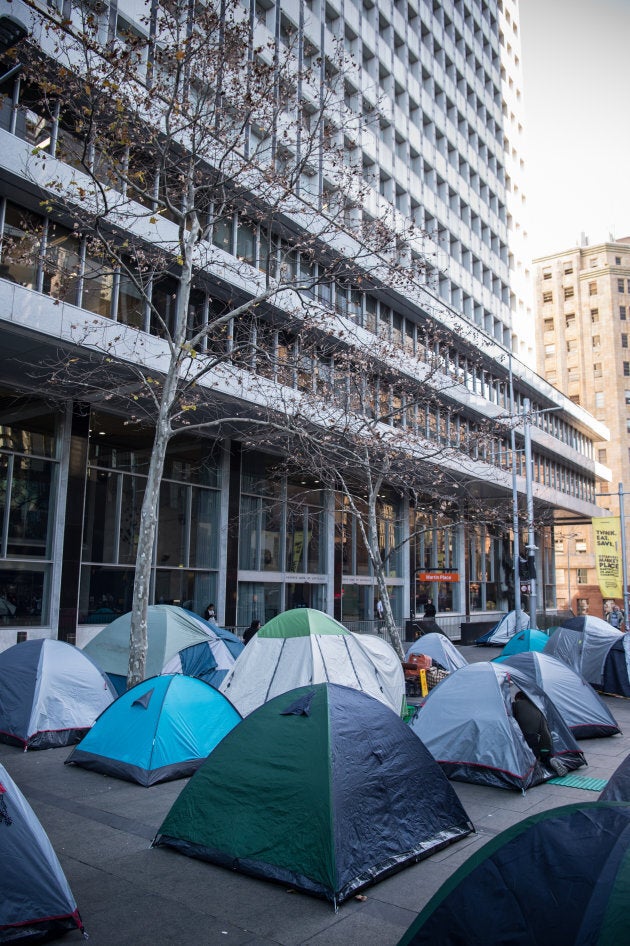 When the HuffPost Australia visit on Tuesday afternoon, about the only people who seemed to be paying attention the tent city are a small group of teenagers wanting to do scooter jumps on the Martin Place steps, but are obstructed by people lining up for the cafe.
Lenore, a resident, keeps the ash-crowned butt-end of her cigarette out of the camera's gaze when she tells us she's found a small community with the group. She condemns the government for its social housing policies and spending largess.
"How long have people been homeless is the question," she says.
"Besides that I have a question for the politicians -- where would you like us to be, honey?
"Like, isn't it better that we're together in a safe realm than to be displayed out in a park bench, out in the open to the elements of violence and abuse and people not understanding your position because once maybe you did have a home and next you don't have a home."
We were told that people have been moved on in the past, but they've gravitated back.
Department of family and community services staff have visited the site 41 times to offer services and accommodation to those sleeping rough, with about 60 now in permanent housing, Goward has said.
"FACS staff have been proactive in offering accommodation, however some people have not taken up those offers for various reasons," she said on Twitter.
"No one needs to sleep in a tent, support is available. Anyone who engaged with FACS in Martin Place has been offered accommodation."
Most people we met didn't want to talk, or at least didn't want to appear on camera, but Troy is friendly and keen. He is volunteering. He tells me he's looking for work, and wants to make a documentary about the settlement. He wants to start a family.
"This place is for everyone," he says.
Belinda is volunteering at the kitchen, which provides free food to all-comers. Sticking out from the chalkboard which promotes its Facebook hashtag, the kitchen does a steady stream of 'business' while we talk.
"When people walk past they see that there are people in various stages of need in their lives," she says.
"They're very supportive and come back and give what they can. That's the basically the philosophy of this place, is people take what they need and give what they can and that's what keeps this place running."
Moore has called on the government to open up 77 apartments currently empty in the Sirius building, a social housing apartment block on prime real-estate near the iconic Harbour Bridge, recently emptied of its long term occupants.
There are about 105,000 people experiencing homelessness in Australia, according to the 2011 census. If it were a city, it would be our 17th largest.