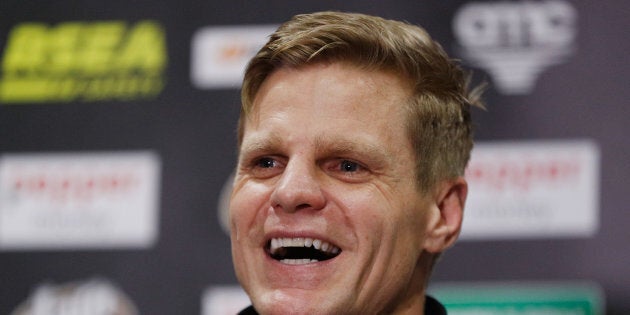 St Kilda champion Nick Riewoldt announced his retirement this week. Understandably, there's been a lot of love for the 333-gamer (and counting) who has been one of the AFL's most likeable, articulate and talented figures for over a decade-and-a-half.
Much of the snap career analysis in the wake of that announcement has centred on his famous mark against the Sydney Swans in 2004. This was the moment that football world slapped itself across the cheek and said, whoa, what have we got here?
What football had was a man prepared to run with the flight of the ball and take a perilous diving mark with zero regard for his own wellbeing. The available footage of that mark is blurred -- but you know what? -- that almost adds to its mystique.
Here's the mark from one angle:
And from another angle or two:
The guts! The skill! But if you love Nick Riewoldt for his play, and for the person he is, you'll go to a whole new level of admiration when you hear the story of a certain night in China in 2005.
The story was shared overnight by Riewoldt's former coach at St Kilda, Grant Thomas, on his personal blog. So back in November 2005, St Kilda had an intense three week training camp in Guangzhou, China. As Thomas wrote:
It was our final day before departure after an amazing cultural and training experience. The players were keen to pin their ears back, enjoy a few cold Tsingtaos and perhaps introduce themselves to the local club scene. The 3 week session was incredibly taxing so the last night social was eagerly anticipated.
Riewoldt, then just 23, was already the club captain, and the coach pulled him aside and said it would be great if he could make a thank-you speech to the club's Chinese hosts in Chinese. Thomas picks up the story...
"Yeah I'll give it a crack." says Nick.

The following day Nick delivers a (near) faultless display thanking our Chinese friends.

What we didn't know is that Nick gave up his right to go out with his 40+ team mates and sat in his room all night researching and putting together his 60 second Chinese thank you.
What a man. Riewoldt never won a Brownlow Medal or a premiership (he came close, losing grand finals in successive years), but he earned a stack of other awards.
He has a great sense of humour too. This reporter interviewed Riewoldt once alongside the hulking rugby league and rugby union great Sonny Bill Williams. Riewoldt for several minutes pretended that he refused to be photographed next to Williams.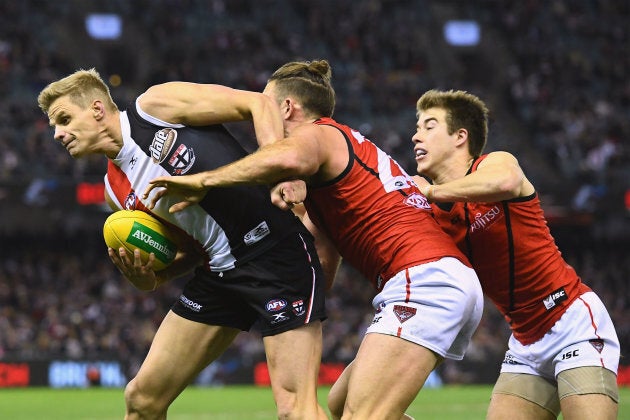 Riewoldt actually did have a super-competitive streak. That's another thing Thomas mentions at length in his excellent blog tribute. He always gave his best on field, and off it too, as the China story demonstrates.
We wish him well in his life after footy.