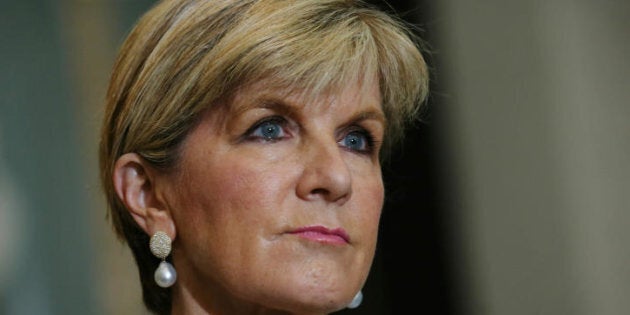 CANBERRA -- The renewed push to better help people in need by uniting Australian charity groups as a 'one-stop' donation shop has secured the crucial backing of Foreign Minister Julie Bishop.
In a statement to HuffPost Australia, the Foreign Minister indicated the Turnbull Government was on board.
"The government supports improved coordination between humanitarian agencies, including through joint fundraising appeals, which help to focus attention on major humanitarian crises.

"The exact model of collaboration is a matter for the agencies."

Foreign Minister Julie Bishop
The Foreign Minister's response has been immediately welcomed by aid groups who are keen to get up the joint funding mechanism.
Just last month, the Global Emergency Response Coalition was created by eight US-based humanitarian relief organisations -- CARE, International Medical Corps, International Rescue Committee, Mercy Corps, Oxfam, Plan International, Save the Children and World Vision -- to raise public awareness in the U.S. and fight hunger and famine in the horn of Africa.
It has also been done in Austria, Belgium, Canada, Germany, Italy, Japan, the Netherlands, Sweden, Switzerland and the U.K, where the Disasters Emergency Committee (DEC) has been operating.
In practice, a single portal, a phone line or website, would be created for a humanitarian disaster or emergency.
There would be governance procedures for those groups who sign up, reporting and accountancy firms would be brought in and the funding would be distributed according to a fixed percentage or "fair market share" for the groups involved. Based on overseas models, the stakeholders would say how they want the money spent, based on their capacity to use the money most effectively on the ground.
Ian Wishart, the CEO of Plan International Australia, was behind an earlier push to unite the groups in Australia.
"Rather than a cacophony or agencies, there would be consistent voice," he told HuffPost Australia.
"This simplifies how Australians can donate. Rather then having to see a list of 10 or 15 charities, they know they can just give to the cause and it will be used in the most effective way."
But, potentially, smaller agencies could lose out, agencies may see their brand diluted or there may be competition problems if the major humanitarian agencies choose not to take part. There also may be trust issues between individual agencies. And it may take time for the public to become aware of such a coalition, leading to a general drop in donations.
Ian Wishart said the proposal got close, but failed at the board level with several aid groups. Perhaps with Julie Bishop's backing, it may get across the line this time.