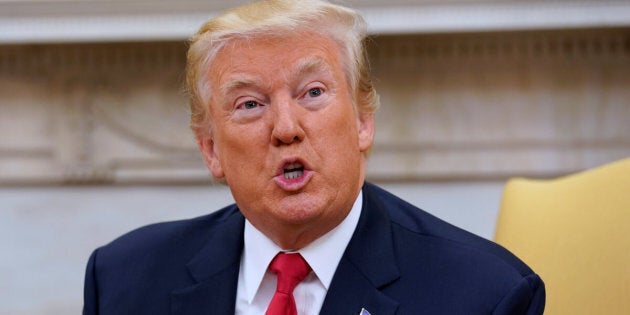 President Donald Trump gave a doozy of an interview to The Wall Street Journal last week, the full transcript of which Politico published on Tuesday night.
During his conversation with Wall Street Journal editor-in-chief Gerard Baker and other staffers, Trump lied about the reaction to his Boy Scouts speech, referred to his 36-year-old son-in-law and adviser, Jared Kushner, as a "good boy," and answered a question about infrastructure by railing against Hillary Clinton.
Here are all the moments in the interview that made us reflect deeply about who we are and how we got here:
He fabricated claims about the reaction to his Boy Scouts speech.
Trump gave a strange, meandering speech to the Boy Scouts of America last month that was criticized for being too political. The group later apologized, saying that the speech's "political rhetoric" was "never our intent."
When the Journal editors said that the speech got "mixed" reactions from former scouts, Trump shot back that, "They loved it... it was no mix." The president then claimed that the head of the Boy Scouts personally called him to tell him that, "it was the greatest speech that was ever made to them, and they were very thankful." The group reportedly denied that such an exchange ever took place.
Trump responded to a question about infrastructure by bragging about winning Ohio.
Asked about how he planned to work with Democrats in Congress to achieve his infrastructure goals, Trump brought up his former Democratic presidential rival Clinton.
"She spent hundreds of millions of dollars on negative ads," the president said. "She didn't do a positive ad, virtually. And she lost easily."
And then, as if unaware his presidential campaign ended after the election, Trump said that "we're substantially up" in "swing states" like Ohio.
"You know, I won the state by 9 or 10 or something, by 9 or 10 points, without any governor support, OK?" he said. "So you have the governor of Ohio not supporting you and you win by almost 10 points, which is pretty good because Ohio's not — if you remember, you guys were always saying you have to win Ohio, right?
He falsely claimed that he has passed more bills during his first six months in office than any other president.
"I honestly believe for six months I have done more than just about any president when you look at all of the bills that were passed, 42, 43," he said.
This is a claim he's made before. But according to The New York Times, Jimmy Carter signed 70 bills during the same time period as president, while Bill Clinton signed 50. Franklin Delano Roosevelt topped them all by signing 76 bills in his first 100 days.
Trump said there would be "no other staff changes" within the White House in the immediate future.
Since the interview, both Trump's chief-of-staff and his communications director have been forced out.
He said New Yorkers should just move across the country if they can't find work.
"I'm going to start explaining to people when you have an area that just isn't working – like upper New York state, where people are getting very badly hurt – and then you'll have another area 500 miles away where you can't – you can't get people, I'm going to explain you can leave, it's OK, don't worry about your house," he said. "You know, a lot of them don't leave because of their house. Because they say, gee, my house, I thought it was worth $70,000 and now it's worth nothing. It's OK. Go, cut your losses, right?"
Trump hinted that he might fire the man leading the investigation into his campaign's connections to Russia.
After firing FBI director James Comey, the Justice Department appointed Robert Mueller as special counsel in charge of the probe. But as the investigation widens, speculation has grown that Trump could fire Mueller too.
Asked by the Journal editors if Mueller's job was safe, Trump said, "No."
"No, we're going to see," he said. "I mean, I have no comment yet, because it's too early. But we'll see. We're going to see."
Trump's latest frustrations with the probe include reports that Mueller would be looking into the president's personal finances, as well as revelations about a meeting his eldest child, Donald Trump Jr., had with a Kremlin-linked Russian lawyer.
Several members of Congress have warned Trump against firing Mueller.
"Any effort to go after Mueller could be the beginning of the end of the Trump presidency, unless Mueller did something wrong," Sen. Lindsey Graham (R-S.C.) said.
Speaking of Russia, Trump also lied and said no one on his team ever spoke with Russian officials.
"I was never involved with Russia," the president told the Journal. "There was nobody in the campaign. I've got 200 people that will say that they've never seen anybody on the campaign.... there's nobody on the campaign that saw anybody from Russia. We had nothing to do with Russia."
Multiple members of his inner circle met with Russian officials during the campaign, according to a seeminglyendlessseriesof reports. Even his elder son, Donald Trump Jr., has admitted that he knew in advance that his meeting with lawyer Natalia Veselnitskaya was related to the Kremlin's support of his father.
CORRECTION: An earlier version of this article incorrectly stated that Trump appointed Mueller as special counsel.