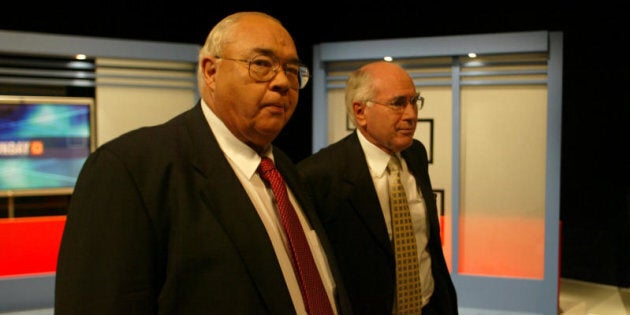 CANBERRA -- He's worked in the Canberra press gallery since 1966, interviewed all Prime Ministers in that time and was even leaked the 1980 federal budget two days before it was delivered.
Now, veteran political journalist and Nine Network political editor Laurie Oakes has called an end to his career.
"Well to pinch an election slogan, it's time," Oakes told his colleagues at Nine.
"I have been reporting politics since 1965. I have been in the Canberra press gallery for 48-and-a-half years and I have been the Nine Network's Political Editor since December the 1st 1984, the day of that year's federal election. And I am about to turn 74."
It is hard work. To do the job properly you have to live it.
"I have slowed down," he said.
The three-time Walkley Award-winner has covered 13 prime ministers (more, if you count Rudd twice), 20 federal elections, 51 budgets and one dismissal.
And while he had slowed down in recent years, his appearance in parliament house and its surrounds always managed to strike fear in politicians' hearts. Not least his appearance at the National Press Club to confront Julia Gillard over the Kevin Rudd coup.
But he famously gave "poor old John" Howard a "bit of a shock" by being leaked the then Treasurer's budget in 1980.
"I met a contact in a hotel carpark on the Sunday morning," Oakes said. "He handed over the Budget speech and gave me 15 minutes to read it."
"So I gabbled the whole lot into a tape recorder while he went in and had a quick drink, and then I transcribed it back at the office. That evening Mr Howard was at home with toddler daughter Melanie on his lap watching cartoons on TV.
"Then the news started and I came up blowing every detail of his Budget speech."
Oakes' last day will be on Friday August 18, the day after the last day of the next parliamentary sitting fortnight.