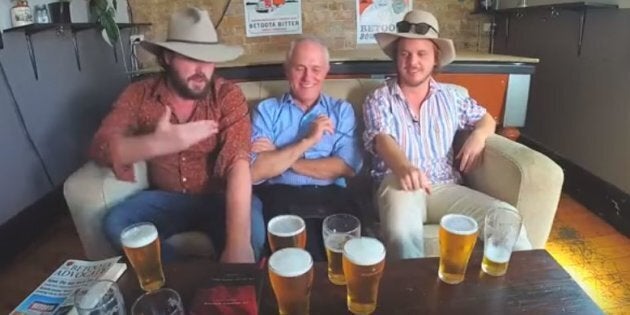 Prime Minister Malcolm Turnbull has accused the writers of satirical website The Betoota Advocate of "sleight of hand" during a Facebook Live interview to make it look like he was drinking more beer than he actually was.
Turnbull appeared on Triple M radio in Albany on Wednesday, talking up his Western Australia trip, marriage equality, GST and other state issues, but the conversation turned a little lighter toward the end of the interview. In March, Turnbull gave an interview to the Betoota Advocate, a popular satirical news website which publishes headlines like 'Report: 89% Of Programming For Footy Panel Shows Based Around Waxing Ex-Players', 'Malcolm Roberts Spotted Discreetly Watching Sachin Tendulkar Highlights In Office' and 'Local Girl Makes Dad Take 18 Different Departure Gate Photos Before Kiss Goodbye'.
The PM and two Betoota writers sat down for some beers in March, on the day of the Western Australia state election which led to a dramatic loss for the Liberal government, as they discussed Turnbull's past as a rugby player, regional infrastructure and had a bit of a laugh. The Betoota boys good-naturedly ribbed Turnbull throughout, but in the Triple M interview, the PM said not everything was as it seemed for the viewers at home.
"It was funny though, what they did... you'd probably notice that the beers moved, it appeared that I was drinking a schooner every few minutes. What the guys were doing was almost by sleight of hand moving the beer glasses around in front of me," Turnbull claimed.
"So every time a camera cut to it it looked as though I had had another schooner."
Admittedly, during the interview, Turnbull is loaded up with as many as four schooners at a time by the Betoota crew. But speaking to HuffPost Australia, the writers denied they'd committed any trickery.
"Malcolm Turnbull was in no way pressured to drink anymore than we were drinking. I think it was clear to most viewers that he was not keeping up, but that's his prerogative," Betoota Advocate said in a statement.
"Shorten and Abbott both know the perils of pretending to be handy with the glass canoe, be it at an RSL with young Labor or at the Oak in Double Bay with the bourgeoise. As for us manipulating footage to suggest that he was drinking more than he was, we would never do that. We do not encourage binge drinking of Betoota Bitter, it is too much of a good beer to not savour."
"The interview was live, if anybody actually cares enough about this non-story, they can go back and watch it from start to finish and see for themselves."
Turnbull did have some kind words for the Betoota Advocate though, and during the March interview, he did seem to be enjoying himself at time.
"They are characters those young blokes," he said on Triple M on Wednesday.
"You know the story that Betoota is a place that has basically, it's a place that has still got a pub but I'm not even sure there is anyone at the pub anymore, it was one bloke living at the pub, but it is essentially a town that has effectively been depopulated so it isn't exactly a thriving metropolis like Albany. It's a very satirical exercise."
Betoota has been in the news for another reason on Wednesday, after a mural depicting one of their headlines about Queensland premier Annastacia Palaszczuk came to the attention of police.
Artist Scott Marsh claims he had sourced permission from the owners of the wall -- a bar in Brisbane -- but when he had almost completed the work, was told to stop by police.
"On day 5 painting this mural and within a hour of [Palaszczuk] face appearing in the wall I was interviewed and shut down by officers from Fortitude Valley," Marsh wrote on Facebook.
"An hour later two detectives from Brisbane Criminal investigation branch interview me again over an anonymous complaint of malicious damage... The irony of the headline has just been amplified by 100."
"Inquiries by police ascertained that the man had permission from the business owner to paint the wall," QLD police told the ABC.