Authorities are investigating reports that a 17-year-old boy opened a plane's emergency exit and "slid down the wing" moments after it landed.
The Copa Airlines flight from Panama City was taxiing to its gate at San Francisco International Airport on Tuesday afternoon when the teen "unexpectedly" left via the exit door, the airline company said in a statement.
"A Copa crew member closed the exit door and the aircraft proceeded to the gate where all other passengers and crew disembarked safely," the statement read. "The passenger has been taken into custody by law enforcement."
Video that CBS San Francisco obtained shows people out of their seats and gathered around the plane's opened door after the teen, who had been sitting in the exit row, had left.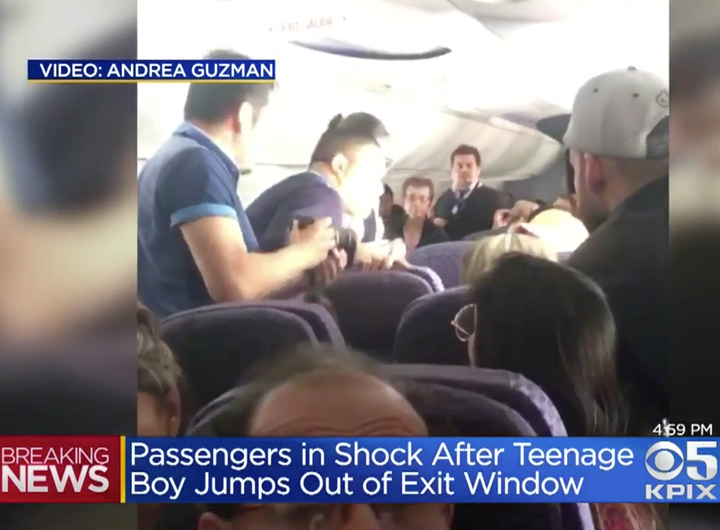 "Everyone was just screaming," 11-year-old Andrea Guzman, who shot the video, told the local station. "This guy, I see him jump on the wing, and then he starts climbing down the wing and then he just runs."
Passenger Matt Crowder of Atherton described to NBC Bay Area how travelers reacted to the incident.
"They were yelling, 'Tell the flight attendants. Relay the message back. The door's open. Someone jumped off,'" he said. "It was pretty crazy."
Some passengers described the teen as "fidgety and anxious" throughout the flight, according to The Mercury News.
KRON quoted an airport spokesman as saying that the teenager is a U.S. citizen and who was traveling alone.
"You see it all at SFO," wrote its uploader, Johnny Escobar.
The teen was detained by construction crew on the ground and later by police, the airport spokesman said. The teenager was not injured in the incident, the spokesman added.