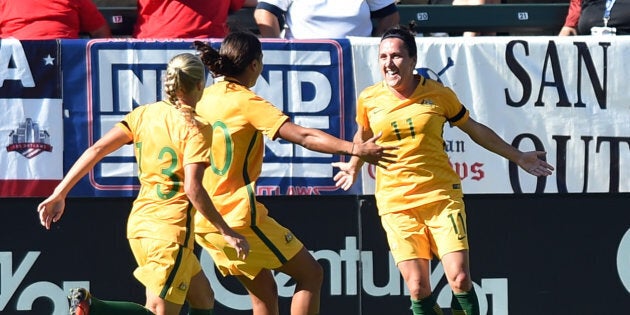 Get a hose! Get the whole Amazon river! Australia's national football team The Matildas are officially on fire and this time their victim was Brazil.
The Matildas beat Brazil 6-1 after a stunning performance in their final match of the Tournament of Nations in Los Angeles.
This goal summed up the total domination of The Matildas. Brazil literally didn't touch the ball once -- all the way from Aussie goalie to net.
This was the first time this four nation tournament between the teams ranked 1st (the U.S.), 6th (Japan), 7th (Australia) and 8th (Brazil) had been played. A win or draw in this final match was all Australia needed for victory, after we earlier beat both the U.S.and Japan.
As they had done against Japan, the Matildas conceded an early goal -- this time in just the second minute -- but recovered quickly. A highlight from the first half was this Katrina Gorry strike, which made it 4-1. That was the halftime score.
The fifth goal looked like this:
The U.S. commentators were full of praise for The Matildas, saying results in this tournament may be "a sign of things to come".
Things to come? They're already here! For this, a lot of love has started to flow the way of coach Alan Stajcic, who has led the national team since 2014.
There is also much praise for goal-scoring freak Sam Kerr, who muscled two defenders out of the way to notch Australia's sixth.
Meanwhile in Brazil, people could barely watch. The Brazilian men's team's 7-1 loss to Germany in the 2014 FIFA World Cup semi final was the worst sporting moment in that nation's history.
Any scoreline that edges up towards that 7-1 zone gives the nation collective nightmares. We were in that territory for the last ten minutes, but fortunately for Brazilians, that scoreline was avoided.
In times of crisis, small mercies are needed.
Many of the Australian players will now resume duties in America's National Women's Soccer League. That includes the league's leading scorer Sam Kerr, who bagged four goals for Australia in this tournament, but who may yet turn out as early as Friday night for her New Jersey-based team. Sky Blue FC.
We expect her coach will forgive her if she arrives a little bleary-eyed to the match.