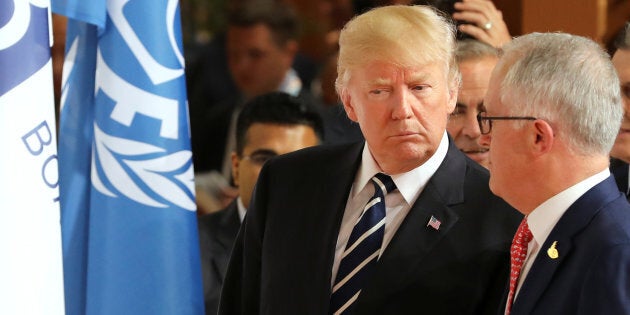 Malcolm Turnbull and Donald Trump's infamous phone call, at first described as a feisty conversation that ended with the President prematurely slamming down the phone, has now been revealed to be a rollercoaster of politicking and negotiation. And not without a few classic Trumpisms.
It featured moments of nuance from Turnbull, of measured explanation -- repeatedly -- on the refugee swap deal that Trump seemed to know startlingly little about. There were also queasy moments -- the dips and drops of the rollercoaster -- when the pair's conversation about people essentially boiled down to cattle trading.
On one level, it was a conversation that revealed a resolute Prime Minister, constantly hedging a dissatisfied U.S. president back into line.
But it also revealed the absolute nightmare reality of politics today -- where two world leaders, one of whom describes himself as "the world's greatest person that does not want to let people into the country" are essentially cattle trading people to avoid a PR nightmare.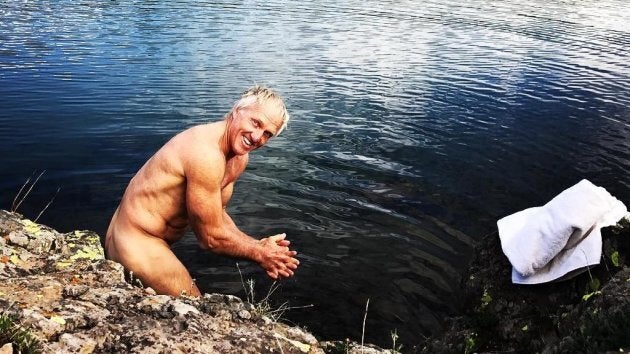 But from there the conversation took a rapid dive into the politically surreal, where up is down and down is Trump praising you for being "worse than I am" on immigration.
Turnbull -- after briefly running through his reasons for making sure 90 percent of the 12,000 Syrian refugees Australia promised to take two years ago are Christian -- was forced to convince Trump to honour in spirit a refugee swap deal signed by Barrack Obama.
Turnbull stated the familiar case for Australia's tough immigration program -- taking away the people smugglers' product -- to the extent that if you were a Nobel prize=winning genius and you came by boat "we will not let you in".
This earned high praise from Trump.
That is a good Idea. We Should do that too. You're worse than I am. Donald Trump
The two also found common ground in discussing Germany's leader Angela Merkel.
TRUMP: Look at what has happened in Germany. Look at what is happening in these countries. These people are crazy to let this happen. I spoke to Merkel today, and believe me, she wishes she did not do it. Germany is a mess because of what happened.

TURNBULL: I agree with you, letting one million Syrians walk into their country. It was one of the big factors in the Brexit vote, frankly.
But then, suddenly, Trump was asking the kind of questions that have had many Australians scratching their heads for years about the country's controversial immigration policies.
What is the thing with boats? Why do you discriminate against boats? No, I know, they come from certain regions. I get it.Donald Trump
"Why haven't you let them out? Why have you not let them into your society," the President asks at one point, before imploring Turnbull to explain "why is this so important?"
Trump even said "well, maybe you should let them out of prison". This illicited the strangest but perhaps most subtly forceful of comebacks from Turnbull.
But can I say to you, there is nothing more important in business or politics than a deal is a deal. Look, you and I have a lot of mutual friends.Malcolm Turnbull
Note Turnbull's firmness -- "a deal is a deal" -- backed up with "look you and I have mutual friends".
"Okay, this shows me to be a dope," Trump says after some more back and forth.
"I am not like this but, if I have to do it, I will do it but I do not like this at all."
Not much of this is new, right? We knew from the get-go the conversation was tense and that Trump didn't know much detail about the deal.
But Turnbull clearly knows every detail, and deploys it skilfully to convince Trump he doesn't have to do much of anything at all to honour it, while Australia has to do a lot.
Trump at one point becomes concerned about the asylum seekers Australia is trying to offload, until he's diplomatically, but straightforwardly, brought around by Turnbull's reasoning.
TRUMP: Okay, good. Can Australia give me a guarantee that if we have any problems – you know that is what they said about the Boston bombers. They said they were wonderful young men.

TURNBULL: They were Russians. They were not from any of these countries.
But from the mouth of Turnbull himself the deal "does not require you to take any," adding "it requires, in return, for us to do a number of things for the United States -- this is a big deal, I think we should respect deals."
... we will then hold up our end of the bargain by taking in our country 31 [inaudible] that you need to move on from.Malcolm Turnbull
Every individual is subject to your vetting. You can decide to take them or to not take them after vetting. You can decide to take 1,000 or 100. It is entirely up to you. The obligation is to only go through the process.Malcolm Turnbull
After convincing Trump to take the deal, Turnbull offers to move the conversation on to the war in Syria and tensions in North Korea. But at this point Trump is done, and quickly ends the phone call before telling Turnbull he had a better conversation with Putin.
Why The Conversation Matters
But what isn't clear is what will become of the 1,250 people if America decides to assess, but reject, these asylum seekers.