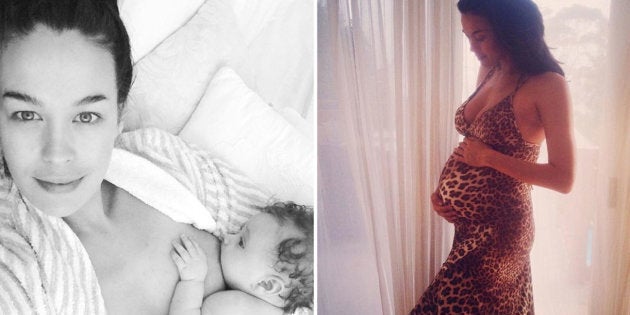 Megan Gale shared a gorgeous snap of herself on Instagram on Friday to celebrate World Breastfeeding Week, where she spoke out about the importance of breastfeeding in public, and the stigma around it.
The throwback snap features Gale, who is currently pregnant with her second child, breastfeeding her now three-year-old son River when he was still a tiny tot.
In her caption she described her shock at how public breastfeeding is still frowned upon, even going so far as to second guess posting the image of herself in case it was "a bit too full on for Instagram". After forging ahead and sharing the image, Gale called upon her followers to share their own photos to help remove the stigma around breastfeeding.
When you finally get the hang of it and have the ability to do it, the last thing any woman wants is to be told to stop, that it's inappropriate, wrong or abnormal. It's the most normal, natural thing in the world and it needs to be fully accepted not frowned upon. I actually wondered whether or not to post this photo as I had the thought "Is it a bit too full on for Instagram"? But I instantly realised it's that exact train of thought that is encouraging the stigma. So here I am, in my most natural state, doing what comes naturally with my beautiful boy ❤️ I encourage you to post your own breastfeeding pics ladies during #worldbreastfeedingweek (Aug 1 - Aug 7) and help to #normalizebreastfeeding ❤️
Gale's followers praised her bravery for not only posting the image, but also speaking out for public breastfeeding.
"Good on you @megankgale for using your profile to put some positive messaging out about breastfeeding," one user wrote. "I have 2 beautiful boys, 2.5yrs and 13 weeks, both breastfed. Breastfeeding is a special way to bond and the best start for Bub."
"I absolutely love this," another wrote, "thank you. I constantly feel people frowning upon me while breastfeeding my little man in public. It's not how things should be".
World Breastfeeding Week celebrates its 25th year in 2017, running from August 1 to August 7.