Sydney Lord Mayor Clover Moore has refused to forcibly move homeless people from a tent settlement that has been set up outside of the Reserve Bank in Martin Place and will only agree to any action from the state government provided five measures aimed at safe and affordable housing are met.
In a letter to NSW Minister for Family and Community Services and Social Housing Pru Goward and NSW Police Commissioner Michael Fuller, Moore said she does not support the movement of homeless and vulnerable people from public spaces without access to further support and housing services.
"Consistent with the NSW Government's protocol, the City supports the right of people who are homeless to be in public places. Being homeless is not illegal," she said.
"The only effective solution is the provision of permanent housing with appropriate support... Without assistance and housing, vulnerable people will be further harmed and the 'tent city' will simply relocate or return to Martin Place."
In the letter, Moore also said local government legislation and the NSW Crown Lands Act render Sydney Council powerless to move people away from the tent settlement.
While members of the police force are authorised to prohibit the use of "certain structures" in public spaces, remove those structures and apply to a local court for a warrant to remove "trespasser, buildings or goods," Moore said she would only accept these actions if the state government meets safe and affordable housing measures.
Clover Moore's requested safe and affordable housing measures.

Family and Community Services staff provide supported and permanent accommodation for people sleeping rough in Martin Place.

The Sirius Building reopened to provide supported and permanent housing. This would immediately resolve the issue in Martin Place.

A 24/7 safe space in the Sydney CBD to provide food, showers and laundry facilities with support and links to homelessness services.

Funding provided for a new 'Common Ground' at Marion Street Redfern as proposed by the City, Mission Australia Housing and Macquarie Corporate Holdings.

Planning approval to extend the City's affordable housing levy across the entire local government area.
Premier Gladys Berejiklian also weighed in on the issue, asking Moore "to do what's in her powers to move them on" and told the press it made her "completely uncomfortable".
When HuffPost Australia spoke to individuals currently residing in the settlement on Tuesday, fears were raised over a flare up that could threaten the community however others said while people have been moved on in the past, they've gravitated back.
Department of family and community services staff have visited the site 41 times to offer services and accommodation to those sleeping rough, with about 60 now in permanent housing, Goward has said.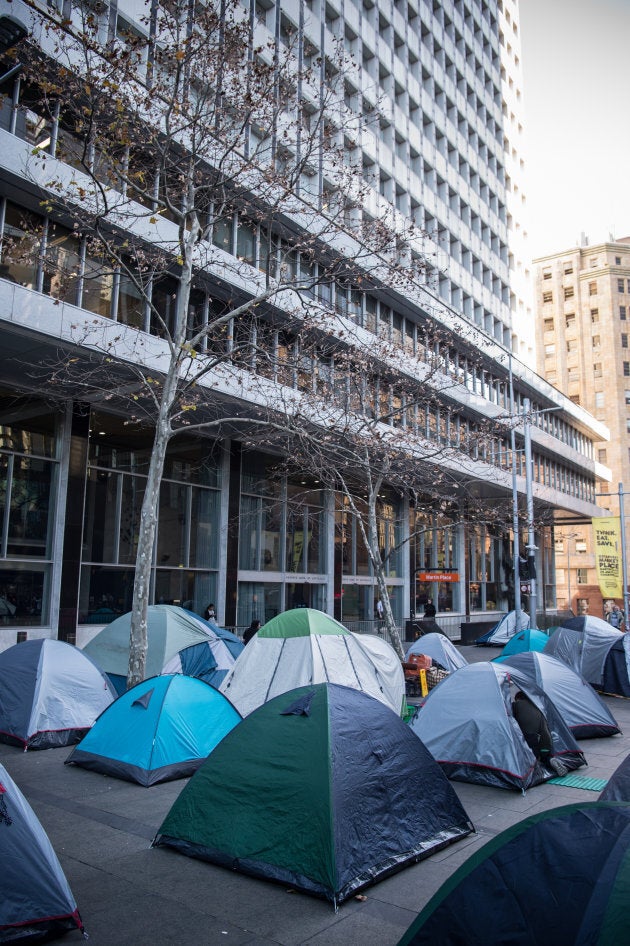 As part of her calls on Friday, Moore said in a statement that the reopening of the Sirius building, a social housing apartment block on prime real-estate near the iconic Harbour Bridge, would open up 77 apartments that are currently empty.
There are about 105,000 people experiencing homelessness in Australia, according to the 2011 census. If it were a city, it would be our 17th largest.