Trystan Reese, a transgender man, and his partner Biff Chaplow are celebrating a new addition to their family.
The couple, who live in Portland, Oregon, welcomed their son, Leo, on July 14 after chronicling Trystan's pregnancy on their public Facebook page.
"For us, we wanted to tell our story because I don't want the next 17-year-old who thinks that they might be trans to think that they have to choose between love and being themselves," Reese, 34, told HuffPost. "I want my community to know that they absolutely can, and should demand, to have both."
The couple say they recognize the danger of being public about their family ― Thomas Beatie, the first publicly pregnant trans man, faced rejection from doctors and people sent him death threats. The couple understands, though, that they're fortunate to contend with less hate than non-binary individuals and trans people of color.
"We're living in an era where transgender women of color are being murdered on an almost daily basis here in America, and on a more-than-daily basis throughout the world," Reese said. "And we have a very different experience with trans life than they do, but we hope that we can open the door to people being more accepting and understanding of the trans community."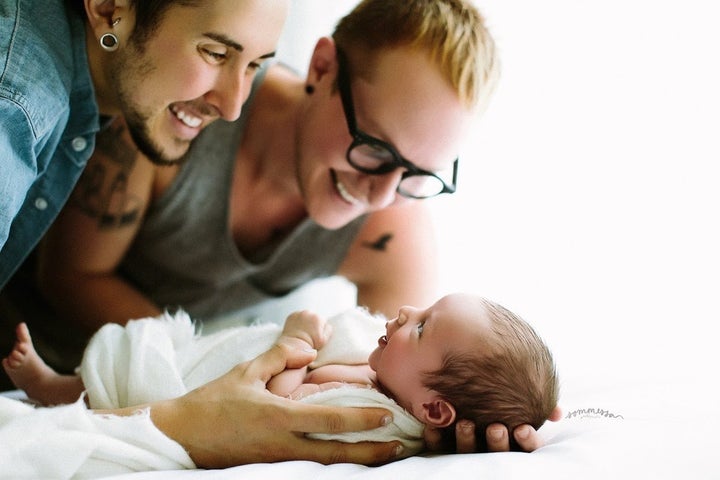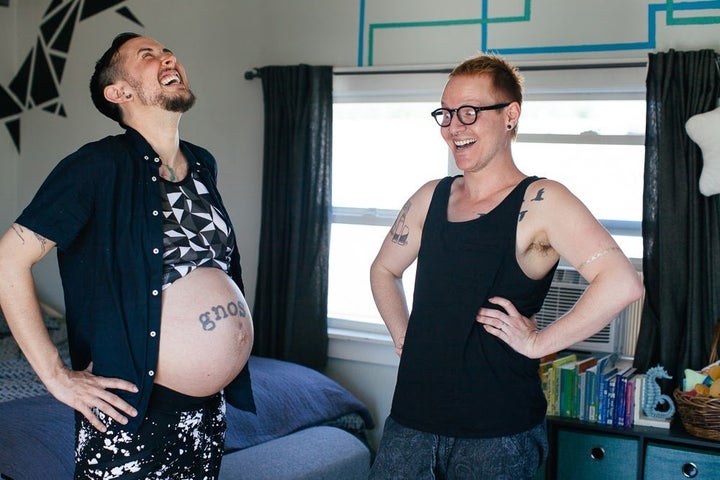 Reese stopped testosterone treatment in order to conceive. He now says that the hormone shift impacted him on an emotional ― rather than physical ― level. Throughout the pregnancy and birth, Reese was monitored by his doctors and hopes to get back on his testosterone treatment soon.
"Anyone who has been on birth control or been through puberty or been through menopause knows that our personalities are really impacted by our hormone balances," Reese told HuffPost. "So at times I was borderline unrecognizable to myself, just in terms of my personality and my ability to be patient and kind and present."
Reese and Chaplow adopted Chaplow's niece and nephew, Hailey and Riley, almost six years ago. With a newborn in the house, they're nearly indistinguishable from any other family juggling feedings and diaper changes with summer activities.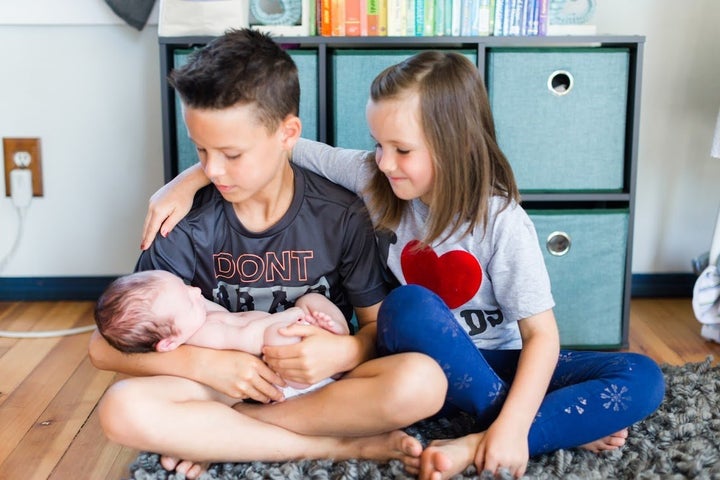 Even after Leo's birth, the duo want to keep sharing their story.
"We want to keep going," Chaplow told HuffPost. "We don't want to stop until... I don't know I guess we would never stop."
Even the couple's families are in awe of little Leo. Reese's father, who is a doctor, was able to cut the cord in the delivery room. And Chaplow's mother was the emotional rock throughout the process, rubbing backs and giving words of encouragement.
"It's just like, wonderful, you know?" Chaplow said. "You just look at him and it's just like, he's so beautiful and he's so cute... I mean I have to pull Trystan away sometimes where I'm like, put him down and do the dishes."