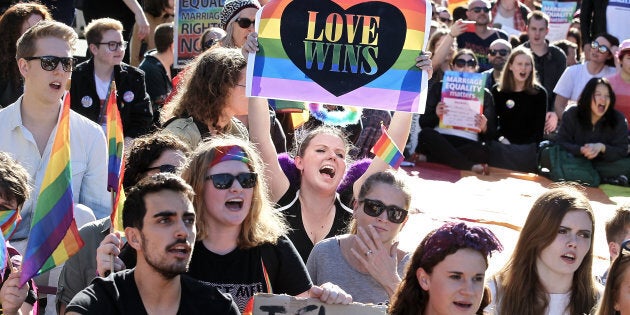 A challenge to a 'bloody stupid' postal vote on gay marriage would begin immediately if the controversial proposal is brought forward by the government after a Liberal party-room meeting on Monday, marriage equality advocates say.
The Liberal party is meeting on Monday afternoon to decide the way forward as reformers push for a free vote on marriage equality in parliament. The Turnbull government went to the last election with a promise to hold a non-binding plebiscite.
Support is growing in the government to hold a postal plebiscite, while Liberal senator Dean Smith has drafted his own same sex marriage bill. A joint party-room meeting will be held on Tuesday.
"We are also aware a postal vote plebiscite may be discussed and considered by the Coalition party room. If that is announced today, the challenge to it will begin tomorrow," said Alex Greenwich, Co-Chair, Australian Marriage Equality.
"A postal vote plebiscite is a bloody stupid idea."
Anna Brown, co-chair of the equality campaign and director of legal advocacy at the Human Rights Law Centre said legal advice indicates the government does not have the power to expend funds on a postal plebiscite.
"That legal advice has been provided to the government," she told reporters in Canberra on Monday.
"We hope the government considers the advice before this discussion in the party room today and we would urge the government to consider the pathways available to it now to resolve this very important issue of marriage equality."
But the ReachTel poll reportedly showed Liberal voters in those seats were significantly less inclined to support marriage equality or a parliamentary free vote.
"We're equally bound to oppose any move to bring the matter into the parliament without a plebiscite first. That's what this week's party meetings should confirm," he wrote in The Australian.
"Keeping faith with the electorate should weigh just as heavily as deeply-held personal belief."
In the middle of all the politics, it is easy to lose sight of the fact the issue about real people, said Tiernan Brady Executive Director of the The Equality Campaign.
He appealed for MPs to remember that at Monday's meeting.
"Lesbian and gay people, LGBTI people are our friends, work colleagues and teammates. This is about their dignity," he said.
"Amid all that hubbub of politics, across the country, hundreds of thousands of lesbian and gay people and countless more friends and families are watching these proceedings to see whether they will be given the same dignity their brothers and sisters, friends and neighbours already get to enjoy."