Bullies are intimidating because they're rude, mean and sometimes violent. But they can be intimidated, too.
That's why a group of 50 bikers in Dekalb County, Indiana, used their image to help one sixth-grade student teach his classmates a lesson: Bullying is bad, not badass.
The bikers, brought together by Brent Warfield of the social group United Motorcycle Enthusiasts, on Tuesday escorted 11-year-old Phil Mick to his first day of class at Dekalb Middle School.
Phil rode onto campus on the back of Warfield's bike.
Warfield, director of the biker club and sales manager at KDZ Motorcycle Sales & Service, brought the group of bikers together after Phil's mom, Tammy Mick, told him Phil had been bullied at school last year.
Mick said she discovered that other kids were hitting and punching her son when Phil came home with bruises.
"It tore my heart out," Mick told HuffPost of the bullying.
"I said, 'Well, get with me. I've got a bunch of big-hearted bikers that are good friends of mine,'" Warfield told the station.
He used Facebook to ask his biker friends for help escorting Phil to his first day of school, writing that he wanted to make a positive impact on Phil and show other kids that "bullying isn't cool."
"Help spread the word that bullying leads to teenage suicide," he added. "Let kids know we are there for them!"
Phil and his parents had breakfast with the bikers on Tuesday before the big ride, according to WANE. The group also said a prayer before forming their caravan.
Jon Strack, a biker in the group who is also known as Bear, said that teachers, students and administrators were all excited to see them and that they welcomed Phil's biker friends with smiles and waves.
"The excitement we felt as Phil looked at all the bikes there for him was amazing," Strack, who also the president of Jingoes Motorcycle in Columbia City, told HuffPost. "The feeling we experienced was a joy in being able to help this young man."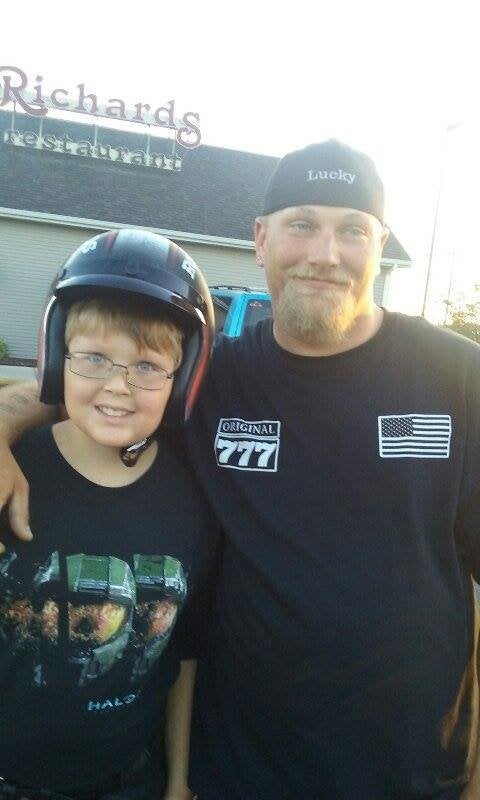 Strack said the bikers of United Motorcycle Enthusiasts learned that the impact their group can make on their local community is never unappreciated. He said he thinks Phil will cherish memories from that day for a very long time.
"Our message to anyone who bullies someone else is this: What you are doing is never without consequences. The impact you are having in the people's lives you pick on is one that will stay with them forever. There is more to life than getting joy from others' pain," Strack said.
With Phil's first week of school behind him, his mom says she sees a dramatic change in her son.
"He comes home smiling after school," she said.
CORRECTION: A previous version of this story incorrectly identified Warfield as owner of KDZ Motorcycle Sales & Service. He is the sales manager.
If you or someone you know needs help, call 1-800-273-8255 for the National Suicide Prevention Lifeline. You can also text HELLO to 741-741 for free, 24-hour support from the Crisis Text Line. Outside of the U.S., please visit the International Association for Suicide Prevention for a database of resources.