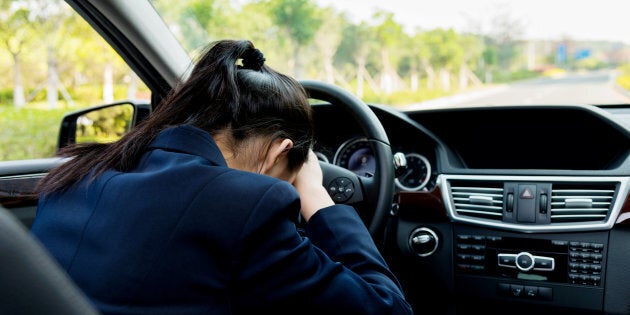 Older women have become the surprising new face of Australia's homelessness problem, with huge increases in females aged over 50 being forced to couch surf or sleep in their cars because they have nowhere else to go.
Homelessness Australia has released an analysis of housing data from the Australian Institute of Health and Welfare, reporting there were more than 1600 women over 50 who sought help from homelessness services and said they were couchsurfing in 2016 -- representing a shocking 83 percent rise in just the last four years. The number of older women sleeping in their cars has risen 75 percent over the same period.
Homelessness Australia said that, overall, there has been a 60 percent increase in people sleeping in cars and a 46 percent increase in couch surfing since 2012-13.
"Our housing system is failing the most vulnerable, and the result is rising homelessness," said Jenny Smith, chair of Homelessness Australia.
"Homelessness is an indication that broader social supports and service systems are failing."
Monday marks the beginning of Homelessness Week, where advocacy and community organisations aim to shine a light on the issue which, at last count, affects 105,000 Australians every day.
Homelessness Australia reports only around 6 percent of those people classed as homeless fit the stereotypical definition, that of someone sleeping rough outside or in tents, with around one in five staying temporarily with friends or family. This class is known as "hidden homelessness", people who are not sleeping rough but do not have a safe, secure and stable place to stay.
Homelessness Australia said it would aim to raise awareness about a "startling" increase in hidden homelessness, which includes people who are forced to stay in cars, boarding houses, overcrowded "squats" or couch surf with friends and family.
Part of the push is a new call for federal and state governments to commit to providing 100,000 new public and community housing properties in the next five years.
"Homelessness can be fixed by providing adequate housing. 100,000 new public and community homes would make a real difference, housing the elderly, families and single people on low incomes," Smith said.
"As the housing crisis takes hold, homelessness services across Australia are groaning under the weight of demand for accommodation for women and children experiencing domestic and family violence, young people as well as rough sleepers."
"We need significant Federal, State & Territory Government investment in social and affordable housing and urgent changes to tax structures so that low income earners aren't forced to choose between paying the rent and putting food on the table."