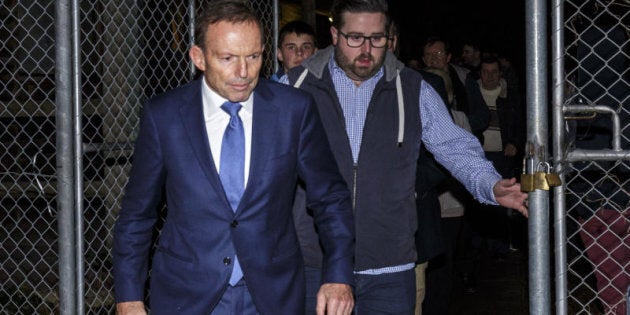 CANBERRA -- Promises, promises. As a prime ministerial candidate, Tony Abbott made quite a few. And he broke enough of them for it to have been an issue in his dumping in 2015 as Prime Minister at the hands of Malcolm Turnbull.
The victor said, in his pitch to colleagues and voters, said: "There must be an end to policy on the run and captain's calls."
Well, in Abbott's urging to colleagues to hold the line on same-sex marriage and stick with a plebiscite policy which was his captain's call, the former PM said Coalition MPs were "honour-bound" and had a thing or two to say about the importance of keeping promises.
Under the headline, "Bill Shorten's same-sex marriage stance is hypocrisy writ large" Abbott has written in the Australian newspaper on Monday that Coalition MPs are "honour-bound to oppose same-sex marriage in the absence of a plebiscite that's supported it".
"If there is one lesson that MPs and political parties should surely have learnt over the past few years it is that you don't break promises," Abbott wrote.
"Say what you mean and do what you say has to be the cardinal rule and is the only way to keep faith with the electorate."
Abbott said the Coalition was "absolutely crystal clear" before the last election, that there would be "no change to marriage laws without asking the people their view at a plebiscite" and he said "at least for this term of parliament," Coalition MPs must remain committed to the position.
Turnbull, according to Abbott, "fully grasps the importance of keeping commitments" and it is only a handful of Liberal MPs who want the government to break its "solemn pledge."
This is not an exhaustive list. But Tony Abbott absolutely broke promises and is now saying you can't break promises and he is urging, even warning, colleagues not to break promises.
"I don't underestimate how torn some of my colleagues are, but ask them to consider how unconvincing it sounds to say that you supported a plebiscite before an election but not afterwards because of circumstances beyond your control," Abbott wrote.
"Even worse is the proposition that it would be OK to support a suspension of standing orders moved by a dissident Liberal because that, somehow, wouldn't constitute losing control of the parliament."
Abbott is suggesting the Turnbull Government try again to get the legislation, which would have enabled the plebiscite, through a hostile Senate. That's even though the Senate is expected to maintain that stance.
"Like it or not," he wrote. "Coalition MPs are honour-bound to oppose same-sex marriage in the absence of a plebiscite that's supported it; and we're equally bound to oppose any move to bring the matter into the parliament without a plebiscite first."