The 'Tent City' in Sydney's Martin Place will be dismantled and a 24-hour "safe space" developed in the city's CBD after Lord Mayor Clover Moore reached a "peaceful resolution" with organisers of the settlement on Monday.
In a series of tweets, Moore confirmed an agreement had been reached during talks with settlement organiser Lanz Priestley and NSW Premier Gladys Berejiklian that involves the tent city being deconstructed in return for a full-time communal space for Sydney's homeless, to be used while a more "permanent space" is developed.
"There has been an agreement that the camp will be packed up just as soon as our council trucks can go down and help them with that material and store it," Moore told media on Monday.
"What the homeless people really wanted was to know that there would be a safe place where they could meet and get support.
"We will establish that as soon as we can and in the meantime a communal safe space will be found, it could be in one of our facilities but it will be somewhere where they can go immediately. I think it's the best possible outcome."
The Sydney Lord Mayor also promised to continue lobbying the NSW government for long-term, affordable housing solutions in order to prevent future housing crises.
"I think we all know that unless we can get some long-term solutions for the housing crisis in our city, that we'll see another tent city in the not-too-distant future," she said.
In an interview with 'The Project' on Monday night, Priestley said the resolution was designed to be sustainable and the new CBD safe space will include areas for homeless individuals to be able to sleep indoors.
"We have made an agreement to set up a transitional 24/7 street kitchen safe space on the way to a more permanent arrangement," he said.
"As part of that, we have made a principle agreement to work towards something that is sustainable, rather than something that just has the effect of taking this site out."
He also said there would be no need for a Martin Place replica tent city to pop up in another party of Sydney, provided homeless individuals have access to affordable and adequate food, shelter and safety services.
"For as long as the people are going to be accommodated and the safe space is going to be maintained, then there is no reason for Martin Place or a substitute for Martin Place to exist," he said,
"But, if people continue to need food, continue to need shelter and continue to need safety, if they are not adequately provided for, in a way that is acceptable to the community then we have got a responsibility to continue to provide it."
The peaceful ending to the tent city comes after Moore refused on Friday to forcibly move the homeless people from the settlement, which is set up outside of the Reserve Bank, and pledged to only agree to any action from the state government if five measures aimed at safe and affordable housing were met.
Tensions had previously risen between Moore and NSW Minister for Family and Community Services and Social Housing Pru Goward when the state Minister urged the Sydney Mayor to act on "these public safety issues in Martin Place", and the political spat spiralled into a who-has-responsibility-for-moving-them-on argument, not dissimilar to recent events in Melbourne.
Berejiklian also weighed in on the issue at the time, asking Moore "to do what's in her powers to move them on" and told the press it made her "completely uncomfortable".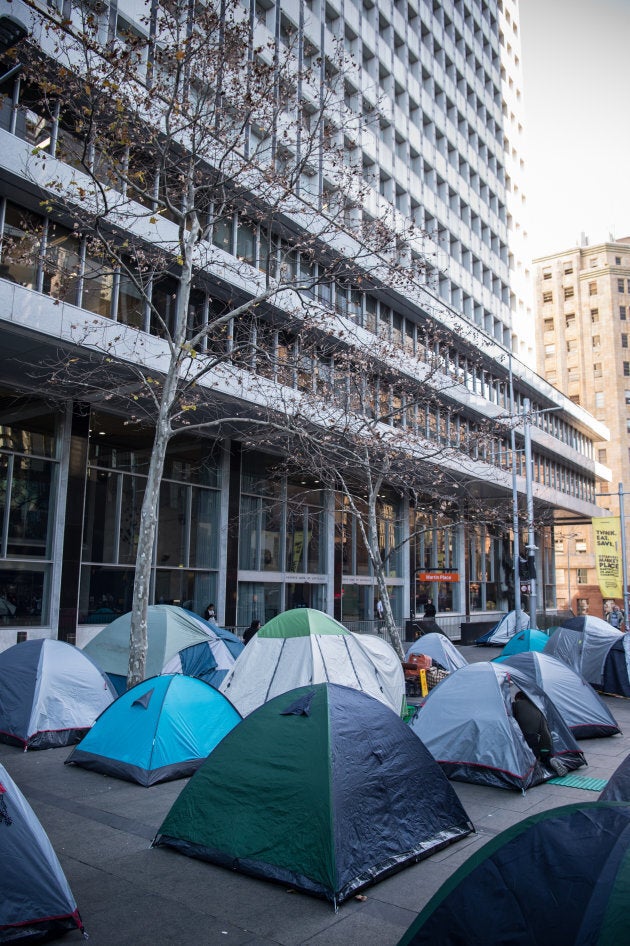 There are about 105,000 people experiencing homelessness in Australia, according to the 2011 census. If it were a city, it would be our 17th largest.