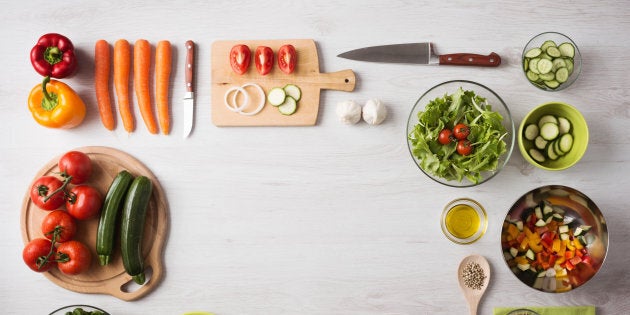 A Sunday afternoon spent chopping, dicing and cooking your meals for the rest of the week might sound boring, but it's a great habit to get into, and not just for money saving purposes.
But despite all its benefits, meal prep can feel laborious -- after all, Sundays are meant to be about curling up on the couch not peeling potatoes. Here's why meal prep is easier than ever...
1.You No Longer Have To Chop -- Or Even Cook -- Food Yourself
"Consider buying some frozen vegetables," Nutrition Program Manager at Nutrition Australia Queensland, Aloysa Hourigan said. "They're already chopped, which saves you time, and have good nutritional quality if stored and cooked according to instructions. You can buy meat already cut in strips for stir fries, or cubed for casseroles. Herbs and spices come in tubes where they're ready just to add in to cooking."
If you'd rather DIY, there are still plenty of ways to minimise meal prep stress. "You can get appliances that will cut, grate or shred vegetables in to the size or shape you want, and will grind spices or herbs in a moment -- saving lots of time and effort," Hourigan said.
"Some appliances will also cook the food for you; you can cook and puree soups then keep them warm. Some also have timers so you don't even need to watch over the food -- it can be great to throw some ingredients in, go out and come home to a ready made dinner."
2.Apps Can Help You Plan What To Eat And How To Make It
Roughly planning your meals for the week ahead means you'll always have the right ingredients in the house, which makes preparation much easier. Apps such as Meal Board and Paprika let you plan your meals in advance, then find recipes to help you turn the items on your grocery list in to meals. Try online recipe platform Cookidoo, which helps you create menu plans and shopping lists, as well as providing recipes specifically for the Thermomix.
Looking into the future, next year you'll be able to invest in the Connected Food Platform -- a smart kitchen that 'sees' what's in your fridge, creates a menu based on the ingredients you have, then controls your oven to cook it for you.
Even if you're using tech to plan your meals, the key is to keep it simple, recommends dietitian at Love What You Eat Zoe Nicholson. "A routine where Sunday night is fish night, Monday and Tuesday nights are bulk cooked items such as Bolognese or curry etc, can work," Nicholson said. "This means your weekly shop is much the same, but veggies and proteins vary each week."
3.There's Gear To Help Food Last Longer
Storing meal prepped food properly means more time on your hands, as it lasts longer and is easier to use when you're ready to eat it. "A Food Saver is a brilliant device," Nutrition Scientist Dr Joanna McMillan said. "It vacuum packs your food so it lasts longer whether it's in the fridge or the freezer, and prevents freezer burn. It also reduces food waste."
The right plastic container will keep food fresh for longer, meaning you can bulk prepare food less often. Rubbermaid Produce Saver Containers allow produce to last up to 33 percent longer as they promote airflow to keep food fresh. "Investing in good quality plastic containers with good seals, that are easy to wash, makes food prep easier," Hourigan said.
When it comes to reheating food, be careful with plastics, McMillan warned.
"Some plastics may leak chemicals into your food, especially hot and/or fatty food," McMillan said. "I prefer to use glass in the microwave and a washable plastic cover made for the microwave that doesn't touch the food."
4.You Don't Even Have To Do It Yourself
There are now a multitude of companies that will deliver a box of ingredients in the right quantities to your door, along with a recipe and cooking instructions.
"If you're time poor, these can be a good (although often expensive) option," Hourigan said.
"To choose the most nutritious options, for every 100g, aim for meals that have less than 10g fat, 3g saturated fat, 10-15g total sugars and 400mg sodium."
McMillan added: "Don't be scared of frozen options. These can actually be better since they don't need to use preservatives, and the food is frozen on the day it's prepared rather than sitting in a fridge."