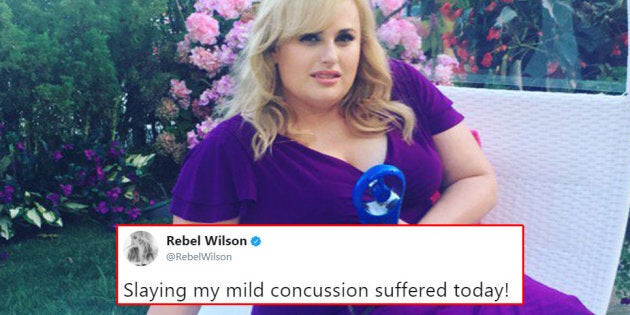 Rebel Wilson has never shied away from throwing herself into her movie roles, and we mean that quite literally.
Wilson is currently in the U.S. filming her latest flick, 'Isn't It Romantic', when she posted a photo of herself reclining on a sunbed, letting her followers know she had concussed herself.
Wilson captioned the image, "Started the day with a fall that led to a mild concussion...yet somehow looking not bad at 7pm...thank you to everyone on Long Island who helped me today in the emergency room & ambulance x".
While there haven't been any details on how Wilson may have concussed herself, it looks like she had started the recovery with a relaxing sit down and a hand-fan. She also posted the same photo to her Twitter, "slaying" her post-concussion state.
Wilson has been busy in recent months, after winning her lawsuit against Bauer Media group, she told media outside the court that filming 'Isn't It Romantic' got her through the harder times during the trial.
"I get to pash [Liam] in the movie," Wilson said of her co-star Liam Hemsworth. "So when I have been feeling really down about the stress of this court case, I've just been thinking of pashing him and how good it is going to be!"
'Isn't It Romantic' stars Wilson and Hemsworth alongside Priyanka Chopra and Adam Devine. It stars Wilson as cynical woman who has become disillusioned with the idea of love, until she wakes up and finds that her life has become a romantic comedy.