Well think again, because on Sunday -- while the rest of the fans at the MCG lined up for over-priced hot chips and pies -- one bucket hat-wearing Melbourne Demons fan managed to kick back and relax while enjoying his own charcuterie board.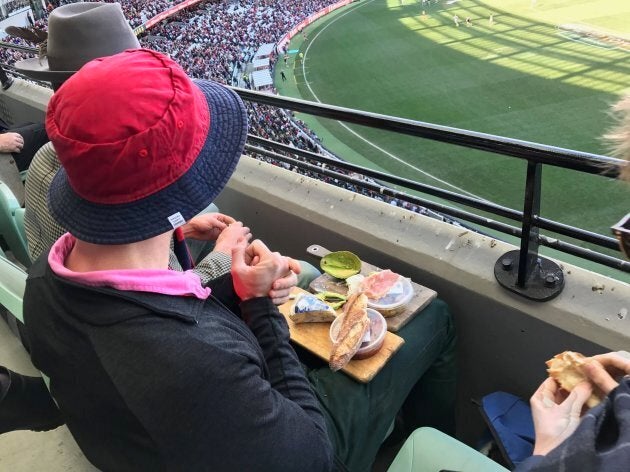 Complete with a selection of cheeses, prosciutto, avocado, olives and even a baguette, a photo of the fancy spread instantly sent Reddit into a spin.
"Cheese platters are the s**t, though you can tell this dude is Gen Y, can't go anywhere without some smashed avo," one user commented.
"This better not be what trendy city folk think country folk look like or I'll die a little on the inside," said another.
One user, who claimed to be a friend of the cheese board culprit, said his mate also managed to smuggle in some salmon in his bag.
In typical Melbourne style, another photo posted on Twitter shows the Melburnian sitting alongside his fedora and tweed jacket-wearing mate as the pair watch the Demons take on St Kilda.
As one Redditor wrote: "That is the most 'Melbourne' photo I think I've ever seen."
"This is so Melbourne," said another.
While bringing a charcuterie board to the footy might be seen as being representative of the culture of Melbourne the city, others noted that the behaviour was typical of Melbourne the club -- whose fans are noted for their, shall we say, upper "crust" tastes.