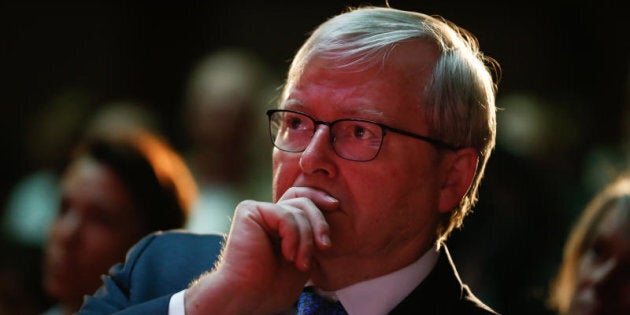 CANBERRA -- Former Prime Minister Kevin Rudd has lambasted Prime Minister Malcolm Turnbull as "irresponsible" for giving the United States a "blank cheque" over rogue nation North Korea.
Tensions are escalating and the language is getting more bellicose between the U.S. and the regime of Kim Jong-un. U.S President Donald Trump has threatened to unleash "fire and fury" on North Korea, while it has responded with a threat to attack the U.S. Pacific territory of Guam. Trump then refused to back down saying the U.S. military was "locked and loaded".
"My response to this statement when I first saw it on the weekend was, 'Good God, the Conservatives in Australia have learnt nothing from the Iraq experience,"Rudd told ABC radio on Monday, stepping into the domestic implications of the potential conflict.
"John Howard gave president Bush a blank cheque on Iraq. You never as an Australian Prime Minister, as an ally of the United States, give the Americans before the event a blank cheque."
The criticism comes as Julie Bishop confirms the Australian parliament would not be consulted if the ANZUS treaty is invoked. The Defence Industry Minister Christopher Pyne said on Monday that any suggestion that Australia would or could install a missile defence system in the next few weeks is "patently absurd".
"It would be tens of billions of dollars and take many years to replicate what the United States has done for continental U.S," Pyne told RN Breakfast.
"But we are a long way from a situation where we are facing the possibility of war. We are at the moment using all diplomatic efforts to ensure we never get to that point."
The ANZUS Treaty is a defence agreement signed between Australia, New Zealand and the United States in 1951 to protect the security of the Pacific. If invoked over North Korea, it would be the second time in its history.
Speaking from New York, Rudd said war on the peninsula is not probable, but it is becoming a "real risk".
"There are multiple scenarios that could arise from the Korean peninsula and we cannot predict which if any of them would occur," he said. "But for an Australian Prime Minister to say that we automatically would become militarily involved in the event of a North Korean attack, frankly I think is irresponsible in terms of our core national security interests."
Meanwhile, citing the Australia response to the September 11 terrorist attacks on the United States, Julie Bishop has told Sky News that if a threat were imminent, the Prime Minister would need to act quickly and enact the ANZUS treaty.
"It would be unheard of for the executive to wait for a lengthy parliamentary debate before the Prime Minister acted," Bishop said.
"In these circumstances, if a threat were imminent or if, in fact, there had been attack on the United States, the government would need to act quickly given that our interests would also be risk."