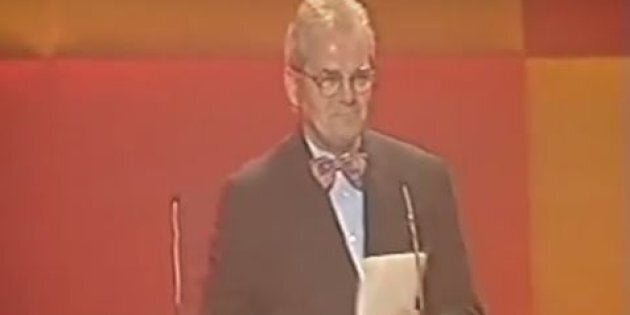 Murray's daughter celebrated the way her former refugee father believed in "refuge and compassion", and how he taught her that the world is "one community, one family" united by "the international languages of football and music".
We heard how Les loved nothing better than having a long lunch in a sunlit piazza somewhere, watching "the magnificent multicultural world go by".
And we heard from his great mate and fellow broadcaster Craig Foster, who spoke about how football fans -- especially those who were recently arrived from foreign cultures -- could turn to Murray on TV "and find someone who understood them".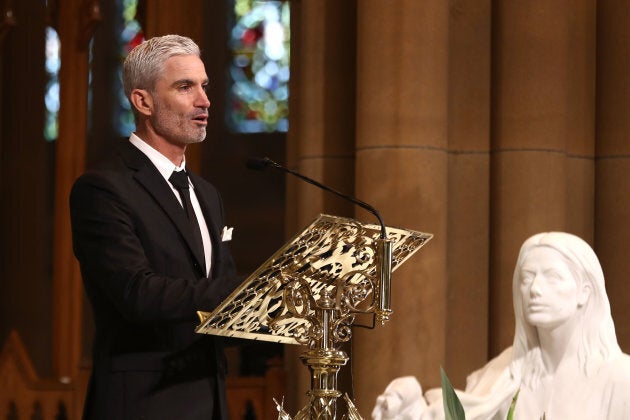 But then, we all knew Murray was a great broadcaster, champion of multiculturalism, and a top bloke. The question is: how many people realise what a wonderful dry sense of humour he had?
Allow us to present this clip from the 1995 Aria Awards. Wait, a football commentator at music awards? Well, here's the deal.
Back in the mid 1990s there was a popular band called TISM (it stood for This is Serious Mum). Its members were anonymous as they always wore masks, and because they thought the whole pop star celebrity thing was a steaming pile of horse s**t. Anyway, Les had come to know them, mostly (of course) because they were huge football fans.
When TISM won the award for Best Independent Release, Murray was called on to deliver the acceptance speech. And oh boy, was it a doozy. The clip is below. Enjoy. We'll spell out what he said below, but trust us, it's funnier if you watch it first and it's only about 40 seconds.
So if you didn't watch the clip, here's what happened. Murray took to the stage, and beginning in English, said:
"This is serious, OK? In the immortal words of the great Hungarian centre forward Nandor Hidegkuti..."
The audience laughed. They didn't see that one coming, and had no idea where it was going. But Les had their attention now.
"Please, if you don't mind?" he continued, straight-faced. And then he switched to his native Hungarian. His words, in the subtitles on the clip, are translated thus:
"The music industry is a septic boil on the buttocks on the buttocks of humanity. I hope you all die a horrible death."
This, it seems, may not be entirely accurate. A Hungarian speaker told us that the words translate more closely to:
"When the revolution comes, the music industry will be first to go."
Either way, the gratuitous slap in the face to the music industry on its night of nights was a pretty fantastic prank, And it's hilarious to watch the audience clapping politely with not the faintest idea they have been totally Les Murrayed.
Why did Murray do this? We're not sure. Let's put the mystery to rest alongside Les himself, and just be glad it happened. RIP one of the great Australians.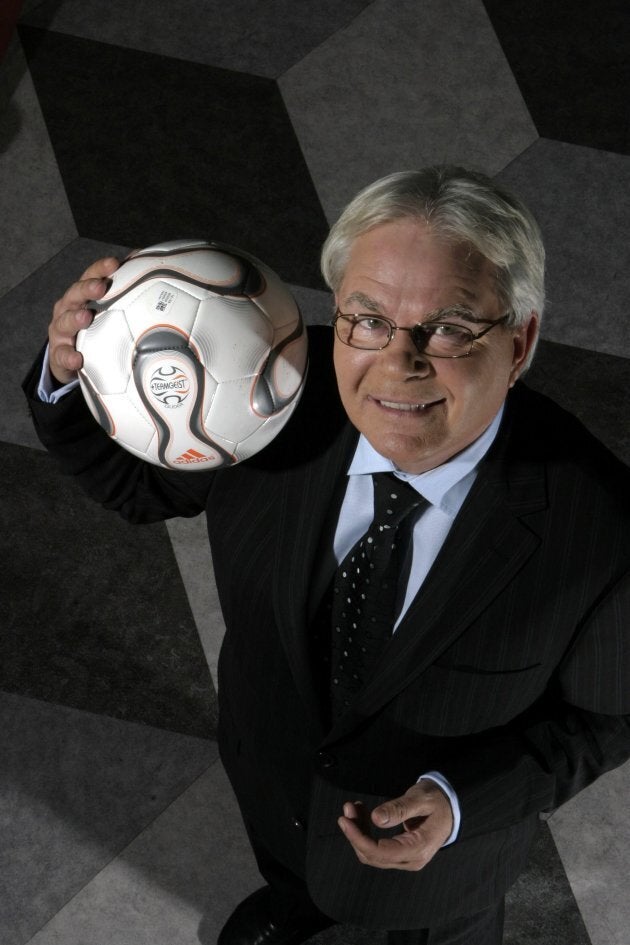 Correction: This story has been updated to include an alternate translation of Murray's speech.