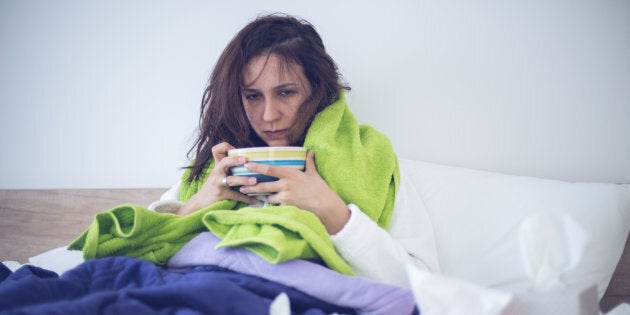 Australia is in the grip of its worst flu season on record, medical experts have confirmed.
More than 70,000 cases of flu in four active strains of the virus have been recorded so far this year.
And despite the deceptively warm weather outside, the outbreak is yet to peak, with 30,000 cases recorded last month alone.
Queensland has been among the states hardest hit, with an all-time record of 4,147 people recorded with the flu just last week.
"To put that in context, we've never had more than 3,500 notifications ever in Queensland, which occurred two years ago," explained Professor Paul VanBuynder, the Chair of the Immunisation Coalition.
"I'm confident this is not just the biggest on record but the largest flu outbreak we've seen for some time."
The previous influenza record occurred in 2015, when more than 100,000 people tested positive for the flu. Analysis by the Immunisation Coalition shows 2017 is set to far outstrip those figures.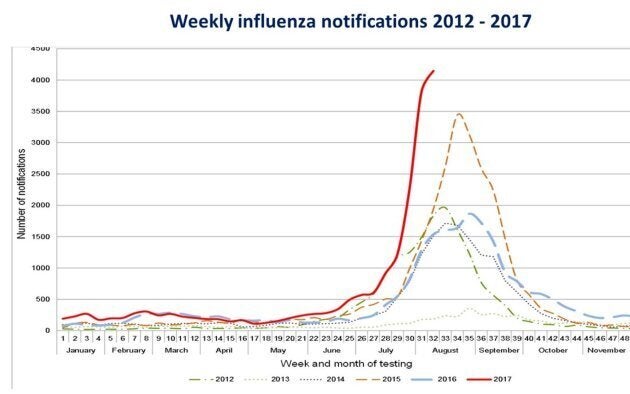 "It's never too late to vaccinate. We urge anybody who hasn't had a vaccine yet to go out and do it," he said.
The flu typically effects the elderly and young children most severely, but this year was seeing a high rate of hospitalisations right across the community.
Vaccination of children, who are most likely to spread the flu to others, was particularly important, Professor VanBuynder said.
Currently, less than 10 percent of children and only half of pregnant women are getting vaccinated.
"That is very disappointing, because we do know that if (pregnant women) do get influenza they suffer more serious disease," Professor VanBuynder said.
"They are likely to have small babies or lose their babies and without a vaccine they're not protecting their own children after birth in those first six months."