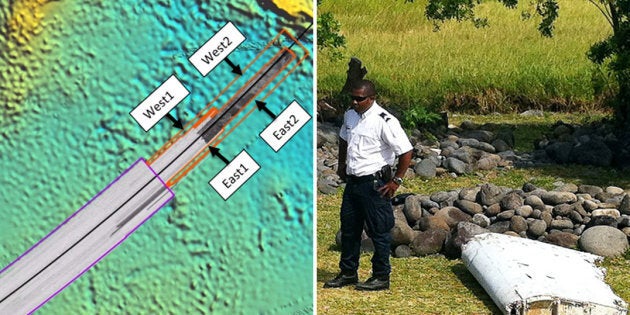 SYDNEY -- Groundbreaking evidence from previously discarded French satellite imagery and refined ocean drift modelling may have pinpointed the geographic crash site of the MH370 aircraft wreckage.
In a new satellite imagery analysis report from Australian government research body Geoscience Australia and a refined ocean surface drift study from the Australian Transport Safety Bureau (ATSB), what are believed to be "probably man-made" items have been located across four areas of the Indian Ocean -- all north of the original search area -- and also linked to separate pieces of debris that previously washed up on African beaches.
In four images taken by French military satellite Airbus PLEIADES in 2014, 70 "identifiable objects" ranging in classification from "probably natural" to "probably man-made" were spotted. Thirty-six of those objects were found located within the area surveyed in satellite image PHR_4 and 12 objects overall were deemed to have been built by humans. Nine of those objects were found within the PHR_4 image area alone.
The images were previously rejected from the search back in 2014, before the ATSB was working on the efforts, but have since been revisited.
While researchers were unable to confidently describe the objects as aircraft debris, the photographs, linked with the CSIRO's ocean drift modelling, has revealed an "impact location" where the 9M-MRO aircraft most likely entered the Indian Ocean.
"Assuming that some of the objects identified in the Pleiades images are indeed debris items from 9M-MRO, we have shown that there is an impact location that is consistent with those sightings," the report said.
"This location is 35.6°S, 92.8°E."
If you're not quite sure where that is, check out the spot below.
The objects in each of the satellite images were assessed based on appearance, shape and size and given a rank between one and five to determine whether they were natural or man-made items (With one being "probably natural" and five being "probably man-made").
Objects that were given a rating of five were "bright objects with a strong rectilinear coherence, and seeming to displace the water around them".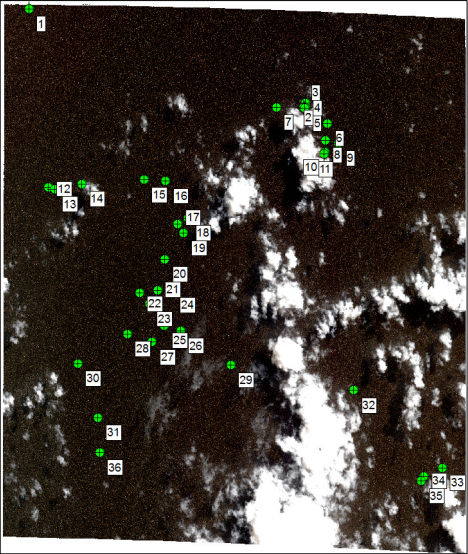 The findings come after research conducted by the CSIRO in April using a part of a Boeing 777 wing, called a flaperon, sought to determine the movement of the doomed Malaysia Airlines plane and pinpoint its possible location to a 25,000 sq km area north of the original search zone.
At that time, those findings supported the conclusions of a First Principles Review report handed to the ATSB in November 2016, which recommended a new search area in the Indian Ocean, but were unable to fully locate where the wreckage may still be.
PHR_1: 11 objects found, 1 classed as "probably man-made".

PHR_2: 12 objects found, 0 classed as "probably man-made".

PHR_3: 11 objects found, 2 classed as "probably man-made".

PHR_4: 36 objects found, 9 classed as "probably man-made".
The exhaustive search for the MH370 wreckage was officially called off in January by authorities from Malaysia, Australia and China -- nearly three years after the flight went missing and after Australia had contributed $60 million to a $200-million-dollar underwater search effort, which was the largest in aviation history.
MH370 vanished on March 8, 2014, with 239 people on board, sparking a massive, multi-million dollar and multi-nation search for the plane over a 120,000 sq km stretch of the Indian Ocean.
Six Australians were on board.
In July 2016, authorities warned the search would be suspended if no new results were found, which a statement in January confirmed. To date no new information has been discovered to determine the specific location of the aircraft.
Traces of the plane have been found washed up on the island country Mauritius, the French island Reunion and an island off the coast of Tanzania.
Timeline of missing Malaysia Airlines flight MH370

March 8, 2014: MH370 flight departs from Kuala Lumpur, en route to Beijing, and loses contact with air traffic control

March 8,2014: A full-scale international search and rescue operation begins. Authorities target waters between Vietnam and Malaysia.

March 13, 2014: Search fails to find trace of MH370 where Chinese satellites spotted three "floating objects" in the ocean.

March 16, 2014: Malaysia calls for help from 25 countries, as search expands across 11 countries.

March 18, 2014: Australia leads new search for wreckage 3,000 kilometres south-west of Perth.

April 4, 2014: Malaysian authorities release transcript of pilot communication with the final words "all right, good night".

April 6, 2014: Black box was thought to be detected off Perth with signals detected, however signals fell silent days later. No trace of the missing plane was found.

April 30, 2014: Aerial search ends and the preliminary report is released the following day.

June 10, 2014: Search coordinator says the search could take more than two years.

October 8, 2014: Search moves south, off the Western Australian coast after Prime Minister Tony Abbott confirmed an underwater search would take place in September. Australia signed a $50 million contract to use two vessels for the search.

January 29, 2015: Malaysia announced all 239 passengers and crew are presumed dead, and MH370 declared an accident.

March 7, 2015: Malaysia's transport minister says new plan will be formulated and data will be re-examined.

July 29, 2015: Debris found on French Indian Ocean island of La Reunion.

May 10, 2016: Fragment of plane wing found is in Mauritius, and later identified as part if MH370. It is one of 33 pieces suspected to be from the missing flight.

July 22, 2016: Officials announce the search for MH370 will be called off if plane is not found by December.

January 17, 2016: Search for MH370 officially called off.