A van rammed into pedestrians on a popular tourist street in Barcelona Thursday afternoon, killing 13 and injuring more than 100. One American is among the dead.
In Cambrils, 70 miles south of Barcelona, police said they killed five terrorists wearing fake bomb belts who ran over several people in a car, killing one and injuring six others, also on Thursday.
Police said at least one terrorist suspect was still at large as of Friday.
Police also detained four people in connection with both attacks.
Authorities said they are investigating possible links between the attacks in Cambrils and Barcelona, and an earlier explosion in the town of Alcanar, 120 miles from Barcelona.
Spanish authorities on Friday were hunting for the driver of a van that mowed down pedestrians along a busy Barcelona street a day earlier, killing 13 people, including one American, and injuring more than 100 before fleeing the scene on foot.
Police were also investigating a similar assault that occurred on Thursday 70 miles away in the coastal town of Cambrils, where police engaged in a deadly shootout with attackers, armed with knives and axes, who ran people over with a car. One person died and six others were injured, including a police officer. Police killed five suspected terrorists driving the Audi A3, some of whom were wearing explosive belts. Authorities later determined the belts to be fake.
The victims of the two attacks included nationals from at least 34 different countries, including the U.K., Australia and Colombia, according to Catalan emergency services.
Spanish Interior Minister Juan Ignacio Zoida said Saturday the cell believed to be involved in the attack had been dismantled, according to CNN.
Authorities said they were looking into possible links between the two attacks and an earlier explosion that destroyed a house in the town of Alcanar, about 120 miles from Barcelona. One person was killed and seven were injured in the blast, which authorities at first thought was an accidental gas explosion.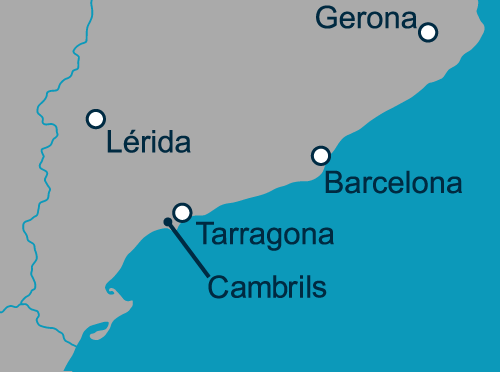 At least three suspects in the Barcelona attack ― Moussa Oukabir, Said Aallaa and Mohamed Mychami ― were among those killed by authorities in Cambrils, Catalonian police confirmed Friday to Spanish TV station TV3.cat. A fourth suspect, 22-year-old Younes Abouyaaqoub, is still at large. He's a Moroccan citizen and was a resident of the town of Ripoll, some 60 miles north of Barcelona.
Additionally, two people linked to the Barcelona attack were arrested on the scene, Catalonia President Carles Puigdemont said, and police on Friday arrested two more people in Ripoll in connection with both attacks. None of the detainees were previously known to law enforcement as having a connection to terrorism, authorities said Friday.
Three of those arrested are Moroccan citizens and one is Spanish, authorities said, adding that three are in their 20s and one is 34 years old. Authorities believe the bomb plot was being worked on at the home in Alcanar on Wednesday.
Shops and newsstands along Las Ramblas reopened early Friday, and crowds gathered nearby to honor victims with a minute of silence. Barcelona Mayor Ada Colau, Spanish King Felipe VI and Spanish Prime Minister Mariano Rajoy joined the crowd, which erupted in chants of "we are not afraid" after the tribute ended.
"If we just shut down and close, then they win," Diana Daniels, an American living in Barcelona, told HuffPost UK. "Of course we have to get on because if we don't, they win."
The self-described Islamic State claimed responsibility for the Barcelona attack via its Amaq news agency. However, it is unclear to what extent, if any, the group's leadership was directly involved. Police said the incident was a terror attack, but later tweeted they could not confirm the driver's motive.
The attack occurred on Las Ramblas, a historic street leading to a central plaza in Barcelona. A pedestrian walkway runs down the center of the street, with cars driving on either side.
The van driver swerved back and forth to hit dozens of pedestrians on a sunny afternoon, "weaving left and right, trying to hit people as fast as possible," a witness told the BBC.
"There was loud bangs and people started running into shops," witness Ethan Spibey told Sky News, describing a "mini stampede" of people running down an alleyway.
"I saw all of the people along the promenade kind of split into two: some going right, the rest coming really towards me, screaming and running as fast as they could," another witness, Ali Shirazinia, told CNN. "I saw people flying into the air."
Authorities immediately locked down the area, shutting metro stations and asking businesses to close.
Spibey said he was locked into a church with as many as 60 other people, waiting for police to clear the area.
"I heard a crowd screaming," said Tom Markwell, a tourist from New Orleans. "It sounded like they were screaming for a movie star."
Nick Ewald, an American tourist visiting Barcelona with friends, told HuffPost UK that they were left no choice but to run as quickly as they could.
"We heard there was an armed hostage situation, so we found a cafe and basically barricaded the doors of the cafe and tried to do everything we could to be ready," he said. "We talked about what we would do if someone came to the door."
Authorities arrested suspects in the Barcelona attack in Ripoll and Alcanar. One is Moroccan and the other is a Spanish national from Melilla, a Spanish city on Africa's north coast that neighbors Morocco, police Chief Josep Lluis Trapero said in a news conference.
Prime Minister Mariano Rajoy urged people to focus on serving the wounded and facilitating the work of authorities. He later tweeted that he was heading to Barcelona and said the government would take measures to reinforce security. The government declared three days of mourning.
The attack was the deadliest in Spain since 2004, when al Qaeda-inspired militants detonated bombs on Madrid's subway system, killing 191 and injuring more than 1,800.
Car and truck attacks have killed more than 100 people in separate incidents across Europe in recent years. Extremist groups have long advocated for their supporters to use vehicles to target pedestrians, and authorities have struggled with ways to address the threat.
The majority of the recent attacks in Europe were carried out by Islamic State militant group sympathizers, and the organization has actively incited individuals to kill people with vehicles. In the deadliest of such incidents, the Islamic State claimed responsibility after a man drove a truck into a crowd celebrating Bastille Day in the French city of Nice and killed 84 people.
World leaders issued condemnations of the attack, as well as offers of support for Spain. British Prime Minister Theresa May, French President Emmanuel Macron and German Chancellor Angela Merkel all voiced their sympathy for the victims.
President Donald Trump also tweeted a statement on the attack, saying the United States would do whatever is necessary to help. But shortly after his measured initial statement, Trump tweeted a tirade against "Radical Islamic Terror" and referenced an apocryphal story he's told in the past about killing Muslim insurgents with bullets dipped in pigs' blood.
Laura Riestra of El HuffPost contributed from Madrid.