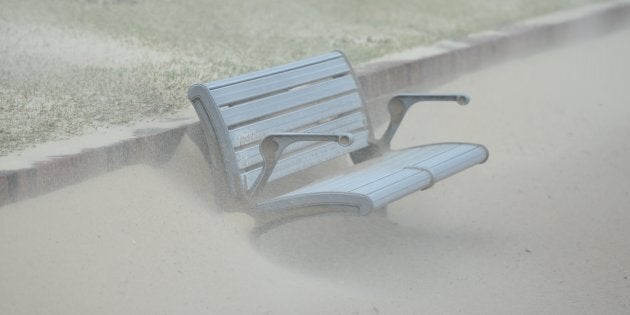 Sydney is having a dangerously windy Friday, with gusts well in excess of 100 km/h causing chaos across the metropolitan area and surrounding regions, leaving numerous homes without power.
There are also reports that minor structures such as carports have collapsed.
A maximum gust of 106 km/h was recorded at Sydney Harbour at 11:34 am, while Kurnell, on the opposite side of Botany Bay to Sydney Airport, recorded a gust of 102 km/h. That's the equivalent of a Category One cyclone.
Delays of well over an hour have been experienced at Sydney airport. Minor delays on rail lines have also been experienced, but Sydney ferries are still operating on all routes except the run to Cockatoo Island.
The winds have been caused by a very strong cold front which has swept north from Victoria. Winds from these systems typically batter the east coast for a day or so after they've passed over the mountains, and that's what we're seeing on Friday afternoon.
There have also been heavy snowfalls and strong winds in the Victorian Alps and NSW Snowy Mountains.
Snow has also fallen in the Blue Mountains region, just west of Sydney.
Winds should abate a little from Friday evening onwards.
Meanwhile the State Emergency Services reminded people to call them on 132 500 for assistance in storms or floods, but to call 000 for life-threatening emergencies only.