If you've ever enjoyed a Middle Eastern feast, with falafel, hummus and soft flatbread-- or you've had cafe avo toast in the last few years -- you will have eaten dukkah, a unique, fragrant Egyptian spice mix.
The condiment is made from a mixture of herbs, nuts and spices. While it's typically used as a dip with bread and olive oil, the spice mix can be used anywhere as a seasoning to add flavour and complexity to a dish.
And you don't have to go to a deli to purchase this magical condiment -- you can make it easily at home using ingredients from the supermarket. In fact, homemade dukkah will taste the best. Try it, it's divine.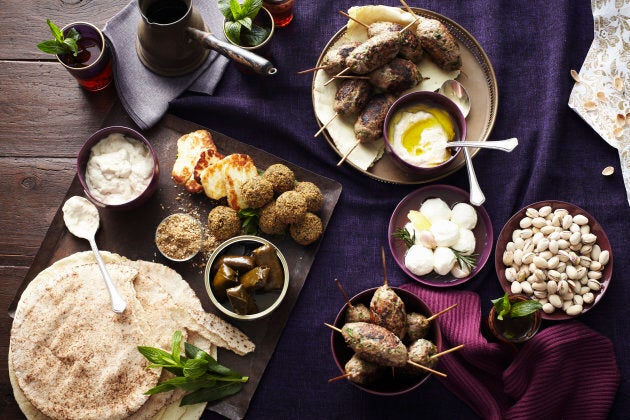 "Dukkah typically consists of hazelnuts, sesame seeds and spices such as cumin, coriander seed, pepper and salt," head chef at Supernormal Perry Schagen told HuffPost Australia.
"The result is a nutty, earthy and salty crumble to use as a textural seasoning. You can experiment with many types of nuts and earthy spices. It is particularly great on baked fish fillets, or on roasted lamb, or mixed through salads to give an extra layer."
As Mark Axisa, executive chef at Catalina Rose Bay, explains, dukkah is a versatile tool to add flavour and texture to many dishes. Once you try good-quality duukah, it will live next to your salt and pepper grinders.
"Dukkah can be used in breakfast, lunch and dinner dishes -- it can be added to spicy granola, curry, roast potatoes, scrambled eggs or even sprinkled over Persian feta," Axisa said.
How to make dukkah
Homemade dukkah using fresh ingredients is always best, with the strongest flavour coming from spices which have been lightly toasted and ground at home in a mortar and pestle.
"Roast the spices in a pan slowly, making sure the spices and essential oils within are slowly released and activated before crushing," David Tsirekas, executive chef of Greek restaurant 1821, told HuffPost Australia.
Home-roasting the nuts will also give your dukkah more flavour and depth, as well as experimenting with different spices and new ingredients, and their quantities.
"I like to make dukkah with roasted hazelnuts and almonds. I start in a mortar and pestle with brown sugar, salt and toasted spices (coriander, fennel, cumin). When you grind the spices with sugar, it becomes moist and will stick to the nuts so the flavour is distributed evenly," head chef at Cumulus Up Colin Mainds explained.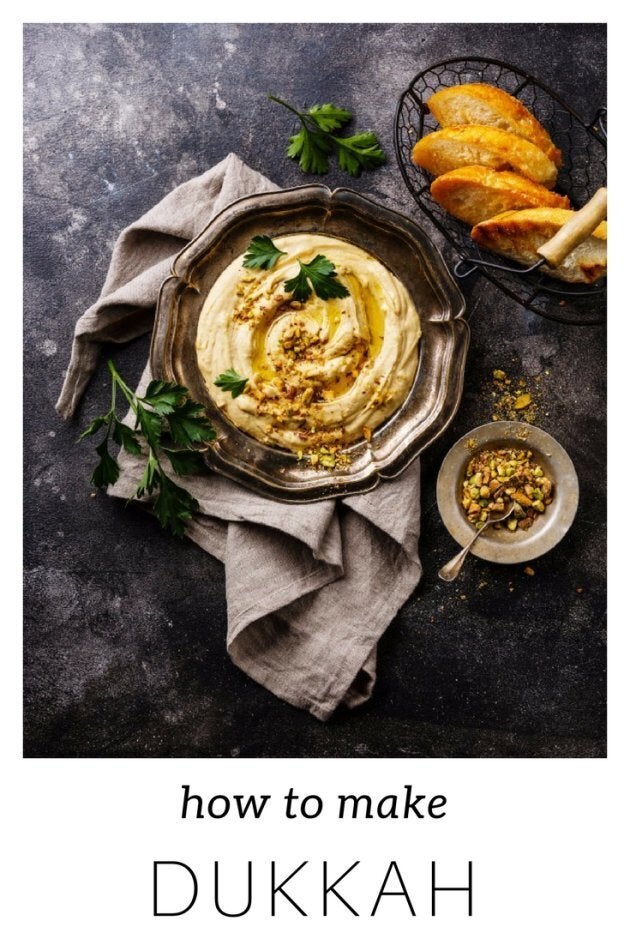 Dukkah recipes
For a traditional dukkah, try this recipe using almonds, pistachios, sesame seeds and hazelnuts.
INGREDIENTS
100g roasted almonds
100g roasted pistachios
100g roasted hazelnuts
50g lightly toasted sesame seeds
1 tsp cumin seeds
1 tsp coriander seeds
½ tsp black peppercorns
½ tsp sea salt
½ tsp ground cinnamon
¼ tsp ground ginger
METHOD
Toast all ingredients in a pan on a low heat to activate the flavours, then pound in mortar and pestle.
Here is an Australian version of dukkah using native ingredients like bush pepper.
INGREDIENTS
250g macadamia nuts
100g walnuts
1 tablespoon dried Vietnamese mint
1 tablespoon lemon myrtle
2 tablespoon bush (mountain) pepper
1 tablespoon cumin seeds
1 tablespoon white sesame seeds
1 tablespoon flatbush
METHOD
Toast all ingredients in a pan on a low heat to activate the flavours, then pound in mortar and pestle.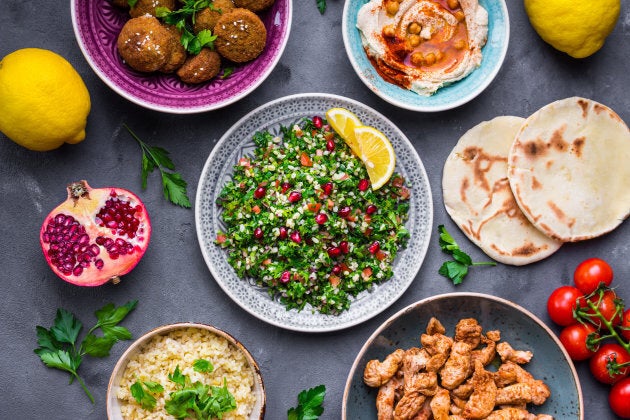 You can even make sweet dukkah, made with cinnamon, pistachios, sugar and cardamom, to sprinkle on top of desserts and breakfast dishes.
"Sweet dukkah has sweet characteristics and may omit the heavy spices such as cumin," Tsirekas said.
"Even with an element of savoury spice, dukkah would work well to balance any sweet dish. An example of a use for dukkah working well with a sweet dish would be something simple like pancakes with fresh ricotta, a drizzle of honey and the dukkah sprinkled over it."