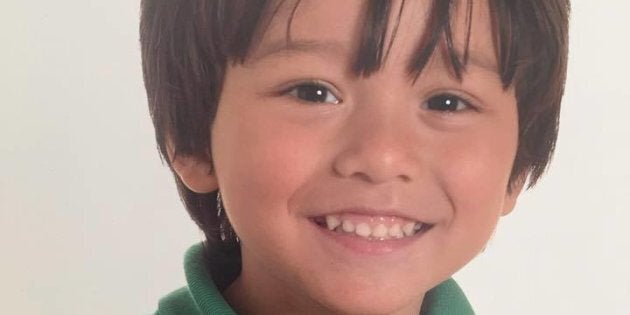 The family of Julian Cadman will remember the seven-year-old killed in the Barcelona terror attack as an energetic, funny and cheeky boy as an international hunt for suspects behind the mass murder continues across Europe.
Julian Cadman was enjoying the sites with his mother on a sunny Barcelona day when a van plowed through pedestrians, killing 14 and wounding as many as 100 on Thursday.
Julian's mum, Jumarie, was among four Australians injured in the attack, and became separated from her son.
In Australia his family launched a social media appeal to find Julian, and Prime Minister Malcolm Turnbull asked us to pray. Julian's father, Andrew Cadman, made a desperate dash from Sydney to Barcelona on Friday night to find his son.
"He was so energetic, funny and cheeky, always bringing a smile to our faces," the family said of Julian in a statement on Monday.
"We are so blessed to have had him in our lives and will remember his smiles and hold his memory dear to our hearts."
The loss of Julian's curious and generous heart will be missed by his schoolmates at St Bernadette's, Parramatta, in Sydney's West.
"The community of St Bernadette's is in mourning," said Greg Whitby, Executive director of the Catholic Education Diocese of Parramatta.
"Julian was a delightful boy -- curious and energetic with a kind and generous heart. He was much loved by his teachers and fellow students. The school community is feeling his loss deeply."
Julian's mum is still being treated for her injuries in hospital, where her condition was described by a hospital official on the weekend as "less serious".
Hunt For Suspects Continues
Spanish authorities are continuing their search for Younes Abauyaaqoub, 22, and two others over the brutal terror attacks in Barcelona and the nearby coastal seaside resort of Cambrils.
It's believed they were planning a much more serious attack which was probably thwarted by an accidental explosion on Wednesday.
"We don't have any specific information on this but it cannot be ruled out," Catalan police chief Josep Lluis Trapero told a news conference in Barcelona when asked if Abouyaaqoub could have crossed into France.
Spanish media said authorities believe Abouyaaqoub drove the van through crowds of tourists and locals walking along Las Ramblas, leaving a trail of dead and 120 injured.
Trapero said he could not confirm who was behind the wheel.
Hours after the Barcelona attack, police shot dead five men wearing fake explosive belts in the resort of Cambrils, after they rammed holidaymakers with a car and stabbed others, killing one woman.